Wincanton's focused community website, providing news and information including a full calendar
News » Councils » Town Council » Message from the Mayor
Message from the Mayor #3 - Celebrating the Balsam Centre
Saturday 30 May 2020, 18:38
By Sue Shelbourn-Barrow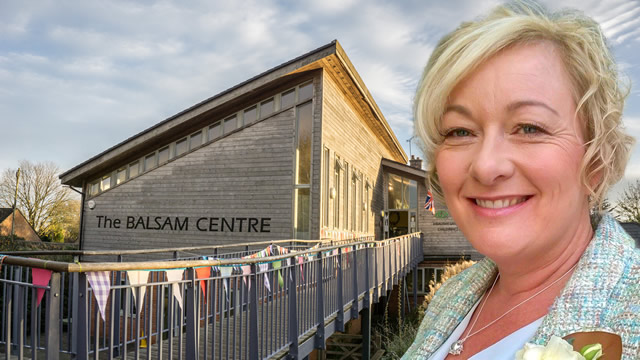 Shout-out to the Balsam Centre - let's recognise and celebrate the staff and volunteers who have been supporting our community!
Our response for the Town, written by Annette

When COVID struck, we all hit the ground running; we just weren't sure about which direction to begin with. It was clear that if people were going to self-isolate, some of the most vulnerable people in our community were going to need help getting their day-to-day needs. The Mayor of Wincanton, Sue Shelbourn-Barrow, very wisely brought together all the all the organisations that help in the community in "normal" times and suggested we pool our volunteers to respond to whatever was needed, and this has worked very well. It has been - and continues to be - a pleasure working with Sue, Sam, and Sandra, Jacqui and Rebecca at the Live @ Home scheme (and Kate of course!); we are all very flexible and have together managed to solve all the unexpected problems that have arisen.

Volunteers

The Balsam Centre has about 140 volunteers on our books but of course many were self-isolating or lived too far away. 27 initially responded but as lockdown firmed up, many had to stop. But the townsfolk stepped up to the challenge and we have had a wonderful response from people who have been furloughed or stopped working. Stonemasons, florists, driving instructors, people who work in logistics, dog groomers - all fantastic volunteers. The Racecourse suggested to the staff who were going on furlough that they might like to help us so we have been joined by Gary, George and Anne - many thanks.

Our offer

The majority of the work has been to do people's shopping for them. Everyone has experienced being 41,962nd in the queue to get a shopping slot but if you aren't online then it's even harder. Morrisons has been very good at letting people phone in and choose their shopping from a list of 40 or so items, but everyone has their favourite things to eat, and in this time of lockdown eating has become a real comfort and pleasure. So, we pass no judgement on your shopping list - you can have whatever Morrisons or Lidl's has in store! Sometimes things are lost in translation; a misspelling of "Cheerios" became "cherries" so the person ended up with glacé cherries - and liked them, even if they were slightly bemused at this alternative breakfast.

Of course, it's not just shopping. We are collecting and delivering the prescriptions and medications people need too. Boots, both at the High Street branch and the Health Centre, have been fantastic and now will call us to deliver prescriptions rather than handing out our number. They have even gone the extra mile, letting people add to their prescription small amounts of toiletries and taking the payment over the phone so we can collect all in one go. They deserve a hearty thanks for continuing to work so cheerfully in difficult circumstances - it has been hectic for them too.

Donations from the good people of our town and wider support

We were donated a laptop and an iPad by a gentleman, which came in at the perfect time. A family with no computer was struggling to help their son with his schoolwork. Just as I was about to deliver the laptop, a woman called to offer us a printer too, so the family is well set up now - thank you for those donations. The iPad went to an older person who had had a new computer delivered just as COVID struck so no one could show her how to use it. We have been able to connect the iPad to her broadband and can give her support over the phone in a way that would have been much more complicated for a beginner on a computer.

The Government delivered their food-boxes but not everyone wanted theirs, or at least not everything in it (tinned mushy peas, anyone?). So, we have been collecting the surplus and redistributing it to families we know are struggling at the moment; people whose new babies have been born just as parents' jobs have disappeared. Donations of money have helped to buy nappies, too! Donors have been extraordinary; one paid for someone's weekly shop until they were back on their feet, another paid for energy key meter top-ups for someone. THANK YOU; you have eased the stress when people were at their most desperate.

Shout-out!

And finally, a BIG BIG THANK YOU to all the volunteers who have stepped forward, who have taken on a regular shop for someone, or have even shifted furniture or walked someone's dog. Some have now returned to work, so THANK YOU Flora and Jo for the time you gave us. The people you shopped for were so grateful and enjoyed the weekly chat from a distance. YOU MADE A DIFFERENCE.
Thank you, and my heartfelt thanks to the Balsam Centre, its volunteers and those who have given donations. A SHOUT-OUT in particular to Annette Yoosefinejad who has been at the heart our second town offer.
If you need help and wish to access the offer, or would like to volunteer, please contact Annette on 07395 326932.
Sue
Cllr Shelbourn-Barrow
---
Related articles