Wincanton's focused community website, providing news and information including a full calendar
News » Events » Christmas » Christmas Extravaganza
Wincanton Extravaganza 2010: Report + Pictures
Thursday 23 December 2010, 22:00
By John Smith and John Baxter
Here you have the story of the Extravaganza as seen by John Smith (JS) and by me, (JB) mainly through the lens of my camera and the expert help of Jim Easthaugh (JE).
JS: I walked the streets from 4pm onwards and watched as our marshals put up the road closure and diversion signs. They deserve a thank you. It was good to see them speak and direct motorists in a courteous way. Well done guys. We would also like to give a special word to the gentleman (careful choice of words for decency sake) who hurled abuse at the lady marshal by the entrance to the Memorial Car Park. We hope that you are feeling guilty and embarrassed. Please remember this evening was dedicated to bringing our community together.
I would like to thank our High Street traders for being open on the night and that many entered into the Christmas spirit by decorating their windows, and having something special to greet visitors on the evening.
Previously people have not turned up till around 6:30pm, but this year they were on the street from nearer 6pm. With the stall holders and special events up and down the High Street the result was a good steady crowd all evening.
Once again Vernon Page attracted many to the Museum for his Victorian Magic Lantern shows. We look forward to his support in years to come. For the first time we had the Wincanton Football Club displaying close quarter ball skills. Well done guys.
It was good to see local charities and organisation with their stalls bringing crafts and fun to the party. Regretfully we had a problem with our lighting and could only use one of the light sets. These were generously provided by YHC Plant Higher, Wincanton. A big thanks to Geoff the local manager who donated the use of the lights and generators free of charge.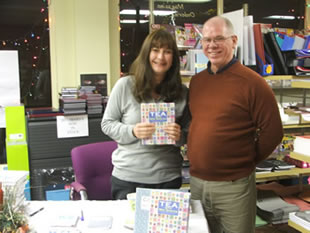 Congratulation and thanks to Adrian Ollerton of Papertrees Stationery and Books. Adrian very generously did all our copying for posters etc. This was no small job. It was especially good to see that Adrian put together two local book signings.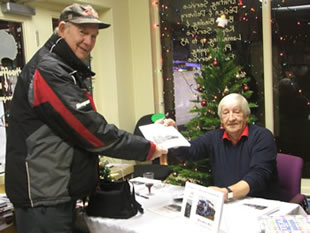 Gerald Box brought copies of his latest book about Wincanton Transport, and Mrs Simpkins of Blackmore Vale Cookery Column fame brought her latest book. I believe that both authors were surprised when they ran out of books and had to get a new supply (Photos John Smith).
JS: At the bottom end of town we had newcomers John and Pam Ironmonger owners of the Ironmonger-Sibthorpe Gallery bringing a brilliant new idea to our event. They set up a Living Picture, inviting all to come in, have a doodle and sign it. Over the course of the evening (two and a half hours) about one hundred and twenty left their mark. I think it was a genius idea and hope it becomes a regular (Photos JB).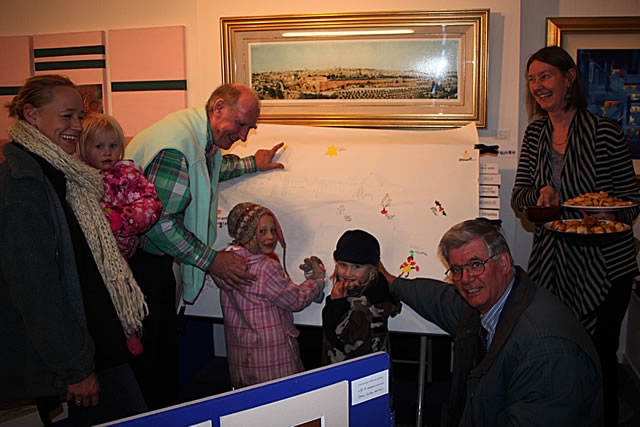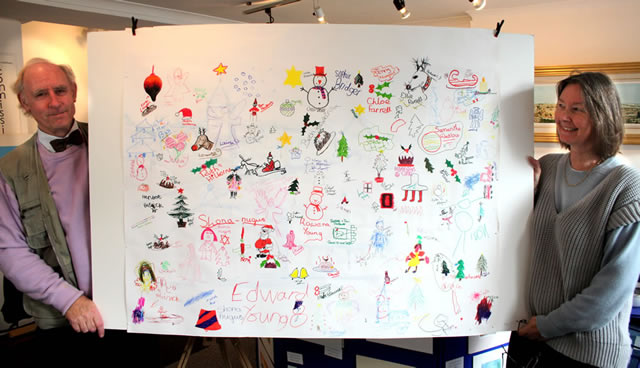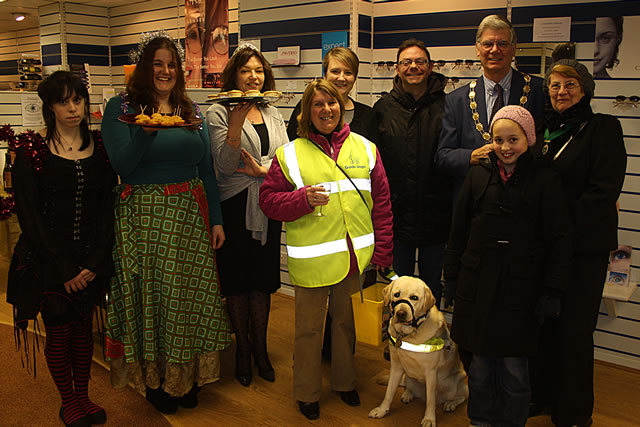 JB: Sarah Gibson with her staff, Mayor Richard D'Arcy and his wife Gill AND Jason Herbert of Mid West Radio and Jess.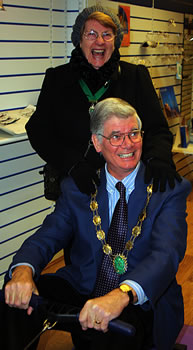 JS: Our event HQ this year was at Sarah Gibson Optometrist. Sarah has been amazing, getting immersed in the planning and I owe her a lot. She was brilliant, and her office was a bee-hive of activity. We started at 5:30pm with a few words of welcome to our town Mayor, Richard Darcy, his wife Gill, and Jess, their granddaughter. They toured the town and judged the Window Competition. This is no mean feat especially when like Richard; you enjoy talking to everyone. We were glad they managed to get back to HQ before the end of the event.
Congratulations to Elegant Homes, and Totally Floored for their winning windows displays. It was great to see them attracting so many customers.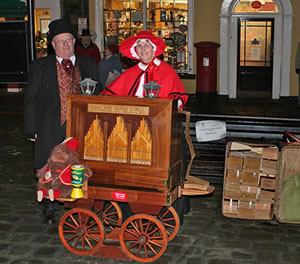 As well as being HQ Sarah hosted The Wincanton Sports Centre entry with their rowing machine competition, helping the people of our community to get just a wee bit fitter. We had the Red Cross on stand-by, but thankfully assistance was not needed. It's great to know that we can always rely on our local Red Cross. They are a great bunch.
JB: One man went to row...
Wasn't it nice to hear the sound of the Victorian Organ wafting up the High Street? For me personally the event hasn't really begun until I can hear that music (Photo JE).
Add to that the sound of the Wincanton Silver Band providing the festive music for our local Churches Together singing traditional carols, and you just go all soppy for Christmas. You can't beat it (Photo JB).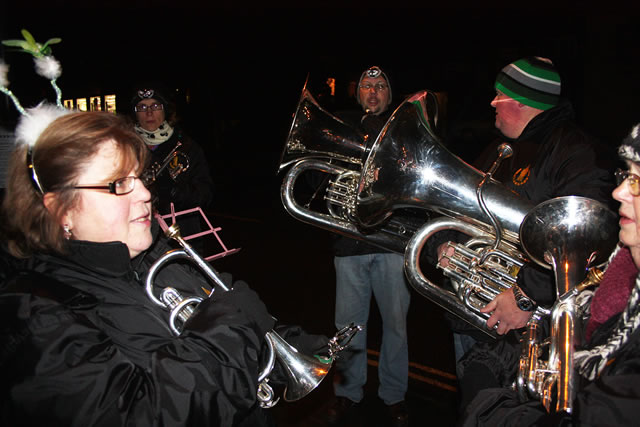 For the second year we had John Baxter and The Wincanton Window sponsoring an exhibition of pictures with the theme "Weird and wonderful Wincanton".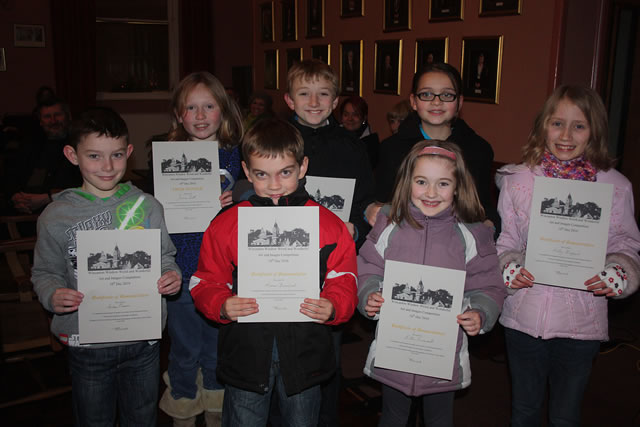 JB: About sixty parents and children from Wincanton Primary and Our Lady's turned up to receive their certificates of Commendation from Mrs Trixie Hiscock, one of our judges and our two prize winners. The new projector and screen in the Town Hall was ideal for showing the amazingly varied and interesting images and pictures we had received. In about a week they will all be up on the Window for the world to see.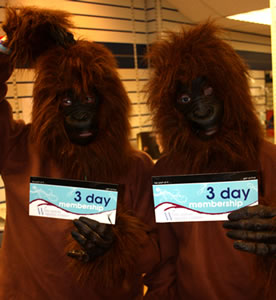 JB: Prominent in the shops and on the High Street was this team lead by Christine Dean collecting for Guide Dogs for the Blind. The beautifully trained dogs are always favourites with children.
JS: I would like to thank Mid West Radio for their coverage during the week up to the event itself, and for Jason Herbert one of their front line presenters who was with us on the night. Please support Mid West. They are our only local radio station since Orchard was taken over by a larger concern. I believe that only Mid West broadcast from a local studio on Yeovil.
I did notice some cheeky monkeys around. I think they escaped from The Sports Centre. I am assured that the community is not in any danger; they were captured and returned to The Centre unharmed. (Photo JB)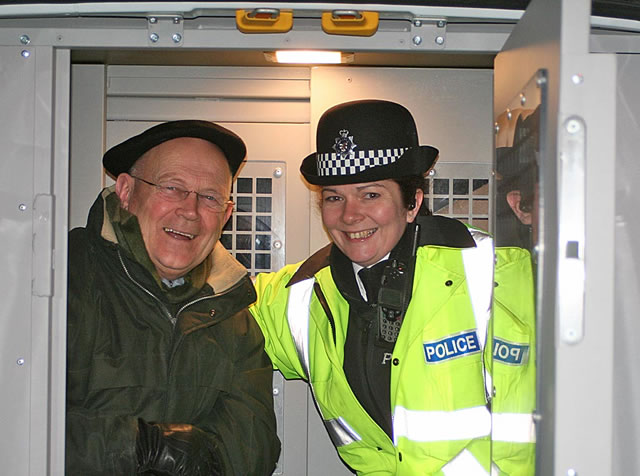 JS: Talking about unharmed. I was saddened to see that Father Louis had yet again been arrested for causing consternation at the start of the event. I was relieved that our local police were there to take control. I'm not sure what has happened to him, so if anyone can update us please do (Photo JE).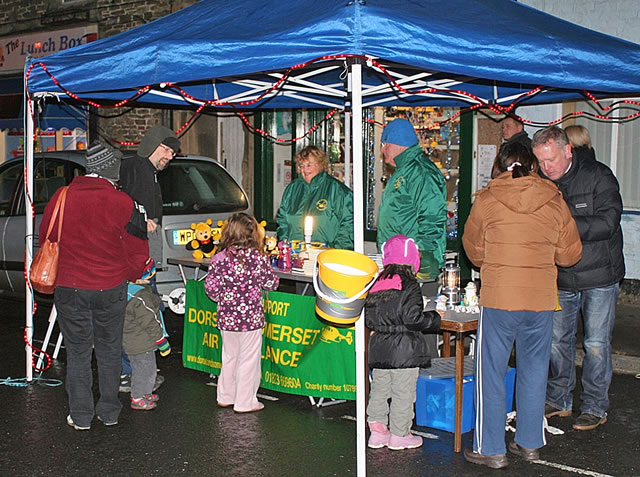 Here you have the stall of the Air Ambulance (Photo JE).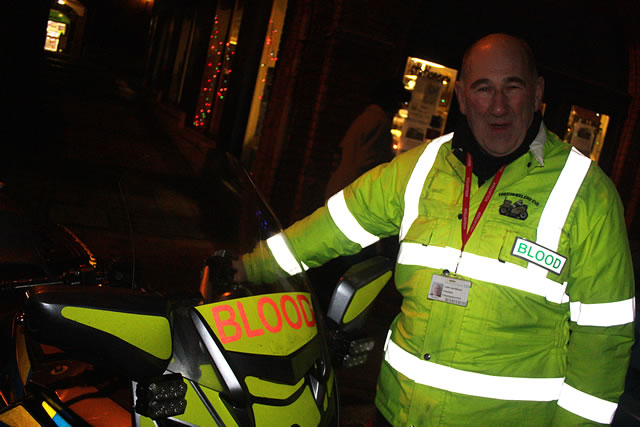 JB: This gentleman with his imposing motorbike was present to raise money and draw attention to the emergency service that transports blood to our hospitals.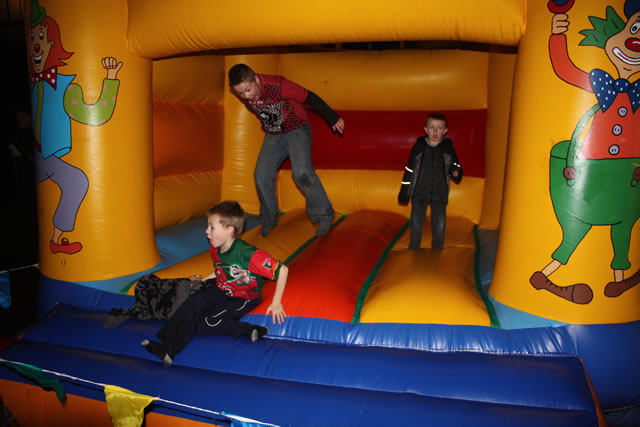 JB: Having a go on the Bouncy Castle.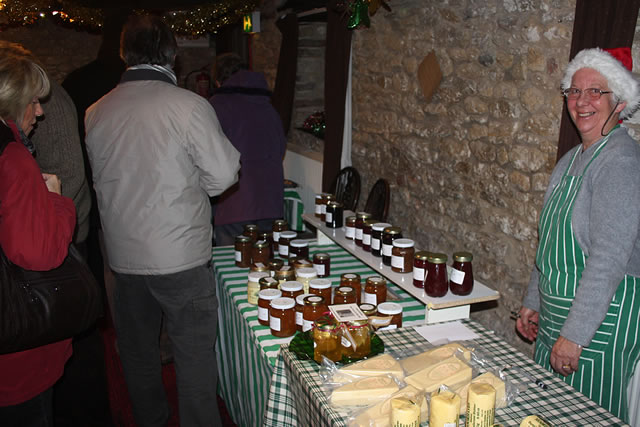 JB: The local ladies who run the Country Market were overwhelmed with visitors.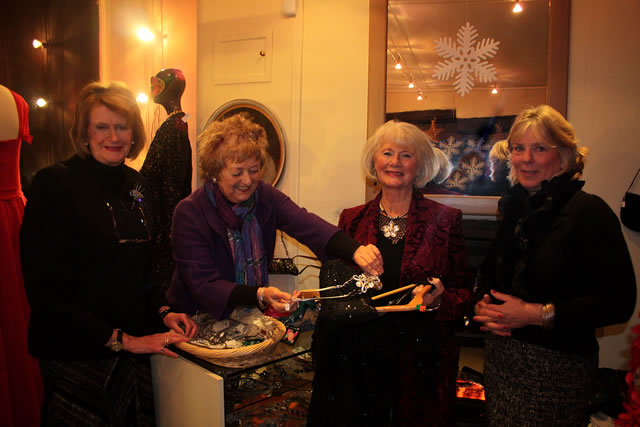 JB: The fashionistas at the Wardrobe had a very busy night.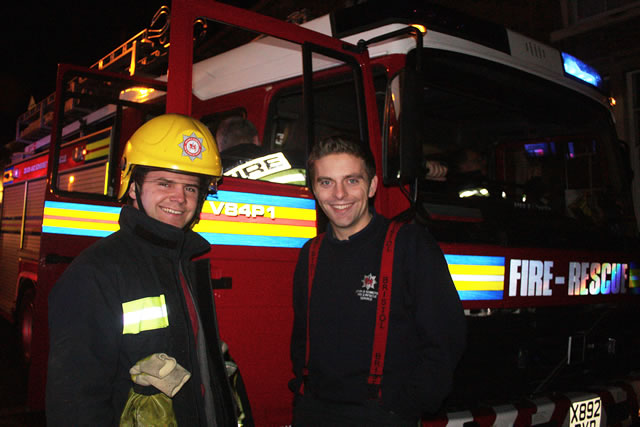 JB: The Fire Fighters strike an heroic pose before their Mean Machine.
JB: Santa's Fairy Grotto, complete with Tiger attracts supplicants in the Hospice Shop.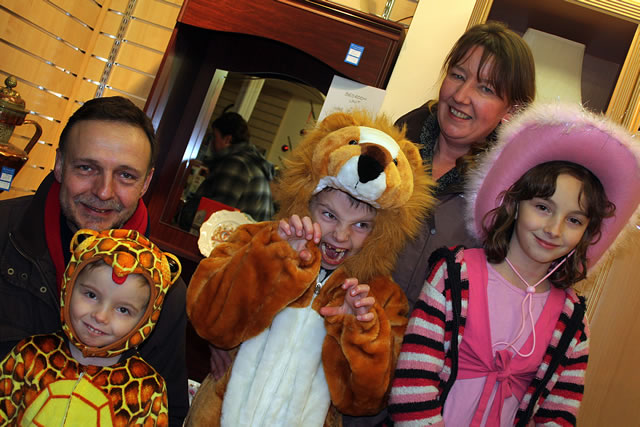 JB: Waiting for Father Christmas was the Hinckley Family including a Lion, a Tortoise and a Cowgirl.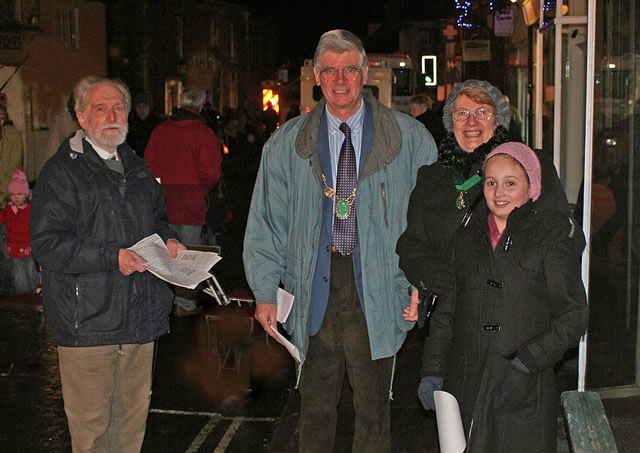 JB: Braving the chill to promote the People's Plan Councillor Colin Winder with the Mayoral Party. Photo JE.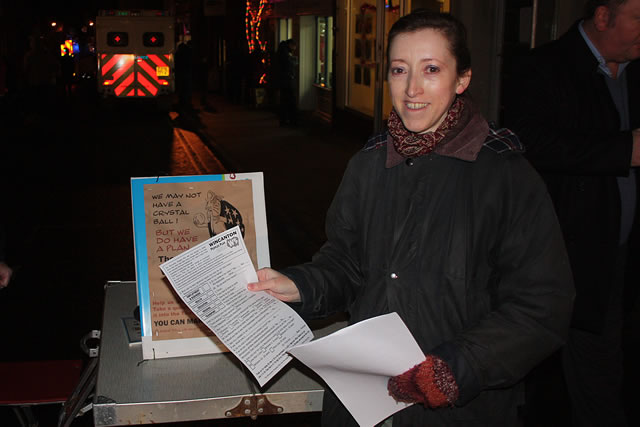 JB: Assisting her father was Alexandria Winder.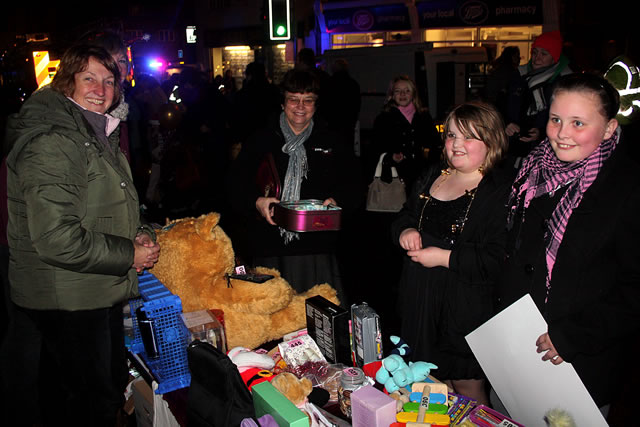 JB: An enthusiastic group of Fund Raisers for Our Lady's School.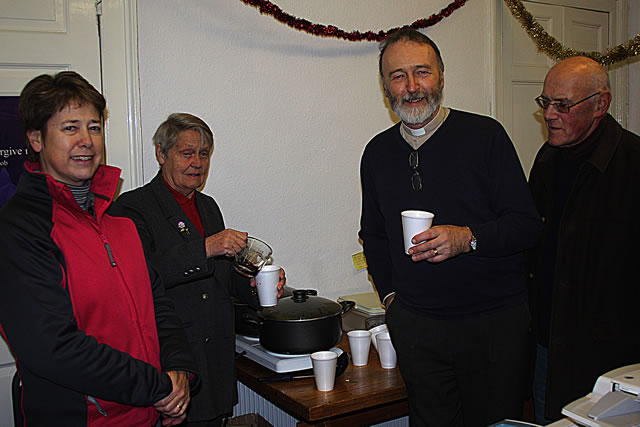 JB: The Parish Office did a roaring trade in mulled wine and mince pies and attracted a steady flow of visitors. Judy and Adrian Chipling with the Revd Nigel Feaver and Church Warden Elizabeth Vivyan.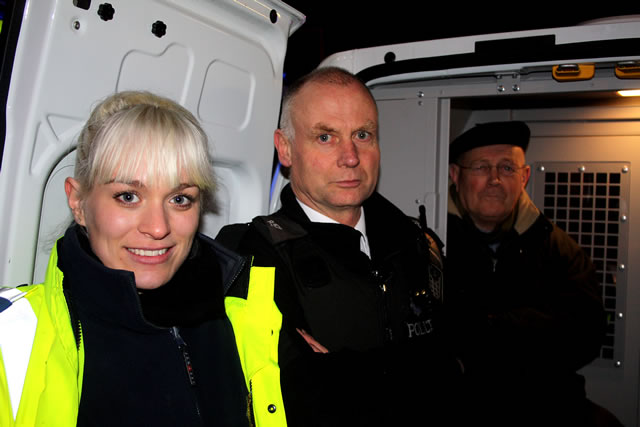 JB: Changing guard. PCSO Jenny Maynard and PC Andrew Brown prevent a break-out.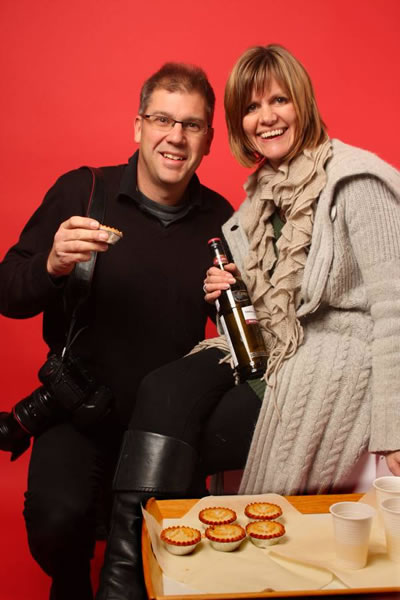 JB: The End of an Evening. Photographers Trixie and Graham Hiscock relax after providing a session of Taster Portraits.
JS: Well there we are, I have reached the end of this short article. OK, give me a break, I wanted to make this short and to the point. But as you can read, our event has grown, and there are so many people to thank. Let me close by paying a special tribute to my brilliant team. Thank you with all my heart to:
Sarah, Jim, Steve, Christine, and Bernard.
You guys are amazing, and without you this event would not have happened.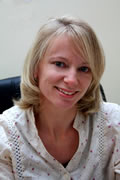 Thank you to Mandy Cochrane. Although Mandy stood down from the committee last year she has organised our road closures and supplied us with important information.
Pam and Jackie from our District Council. Both have worked hard to support us, and our district Council have been behind us solidly since we started five years ago.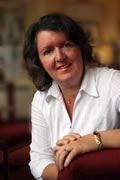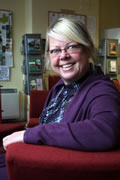 Sam and Muriel at the Town Hall. They and our Town Council have been solidly behind us from day one.
Being a councillor can be a thankless job, but in this event we have proved time and time again that when we all work together for the common good, great things happen. We look forward to working together for a long time to come.
A special thanks to Bernard Pearson who despite the imminent Discworld weekend, gave tirelessly of his time and skills to put together our event programme.
That goes hand in hand with a huge thanks to our main event sponsor "Wincanton Print". Despite a horrendously busy production line on the run up to Christmas, this amazing bunch of people provided us with two thousand programmes FREE of CHARGE. Not only that, when we got the entries wrong and had to go on bended knees asking for more space, they didn't hesitate. They gave generously, and fitted in our programme between print runs in their already busy schedule.
It's a great honour for me to be chairman of this motley crew at WBT. However that also brings a heavy responsibility with it. It's wonderful to try and write about such a successful event. However, knowing me, I am sure that I will have missed someone somewhere who has done great work for the Event. I offer my apologies and I'll do my best to make up for it next time.
Thank you Traders for supporting the 2010 Christmas Extravaganza.
A huge thank you to our residents, and visitors for supporting our Christmas Extravaganza.
The 2011 Extravaganza planning will start early in the New Year and we hope will be even better. Help us to make it special. If you have ideas of suggestions e-mail them to us at john@wincantonbusiness.co.uk.
Have an amazing Christmas and New Year.
God bless you all.
John Smith
Chairman - WBT
---
JB: John Smith tried to stop me saying this but all of us who have been involved know that without his energy, enthusiasm and relentless chasing things up in his jolly way this whole Extravaganza would never have taken place. Thank you John.