Wincanton's focused community website, providing news and information including a full calendar
News » Events » Christmas » Christmas Extravaganza
Christmas Begins With The Extravaganza in Just a Few Days!
Tuesday 29 November 2011, 21:39
By John Smith
Only a few days to go, but even though this event takes place over a short period from 5:30/8pm on Friday 2nd December, the planning and hard work to put it together started way back at Easter time. Without a team of dedicated helpers this would have been impossible to accomplish.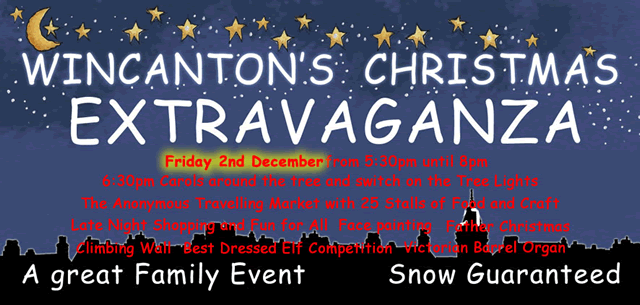 This Extravaganza has grown to be one of the premier events in this area attracting visitors from all over the area. We trust that with increasing support this event will be an annual event for a long time to come.
This year we welcome The Anonymous Traveling Market with around 25 stalls of craft, food and music. It's great to have them on-board and we hope that the Wincanton Community will support this event wholeheartedly. For our young folks we have Father Christmas with some lovely gifts. We have Face Painting for all those who like to look that little bit different. For all primary aged kids we have "The Best Dressed Elf Competition", so mums: you need to be getting those costumes and especially those nice long pointy ears ready for the night. I can't wait to see who wins. I hear that it's even possible that there may be one or two larger elf like characters too.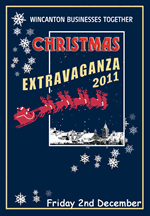 Download the programme!
For all secondary aged students we have an anagram competition. We are all used to visiting shops and businesses in our High Street. However can you identify them when their names are all jumbled up? Forms will be made available at local schools this week in time for Extravaganza night.
If you are feeling brave why not try Wincanton's own Climbing Wall at the top of town courtesy of www.ready2climb.co.uk. Check out their site and have a go. We here that Wincanton Sports Centre are back having their eyes tested at Sarah Gibson Optometrists. I'm sure that will be fun.
Our own local High Street Traders will be open late with many good deals on offer for this festive season. Rumour has it that Steve at Wincanton Wholefoods is roasting chestnuts. So that's what happened to my conkers. Lunch Box is also up to their ears in roasting various meats.
All in all this is already proving to be the biggest and best event yet. So don't miss out. Bring family and friends for a great evening. Join us with the students from local schools around the Town Tree at Market Place at 6:15pm for carols round the tree. At 6:30pm the Town Mayor will throw a switch to illuminate the Tree lights.
All we need to make the perfect event is YOU and decent weather. But hey! It's winter. Bring your wellies and mac and have fun. Even if it rains we will still have fun... and lots of snow. That's right. Even if it rains we will have snow. Guaranteed!
See you all on the night.