Wincanton's focused community website, providing news and information including a full calendar
News » Schools/Children » King Arthur's » KA Events
Impressive Art Exhibition at King Arthur's Ends the Summer Term
Wednesday 6 August 2014, 18:18
By John Baxter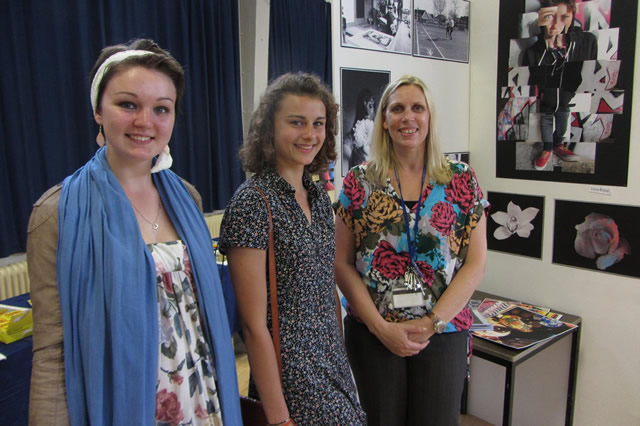 For years King Arthur's, under the leadership of Mr Mark Tinsley, produced art work of a very high standard (as anyone who has had an opportunity to visit the school and walk down its corridors would know), but this year brought something different.
In July 2013 Mark took a well-earned retirement and starting in September 2013, Miss Debbie Wilson was appointed Teacher of Art and Design and took over teaching and leading this area of the curriculum. Clearly the whole area has gone from strength to strength and so she decided to do what has never been done before and lay on a proper exhibition of all the students GCSE work.
A special boost this year was taking part in the Five Schools Art Competition, where the GCSE work of King's Bruton, Sexys, Ansford, Bruton School for Girls and King Arthur's competed. All the competition entries can be seen here. Holly Austin won the first prize, with Shauna Bentley earning a Certificate of Commendation.
All the King Arthur's entries were of a high standard and they were all seen in this exhibition which was carefully laid out with mounted art works, together with the extensive notebooks which are also submitted for the exam and which show the whole process of planning and experimentation which lies behind each finished work.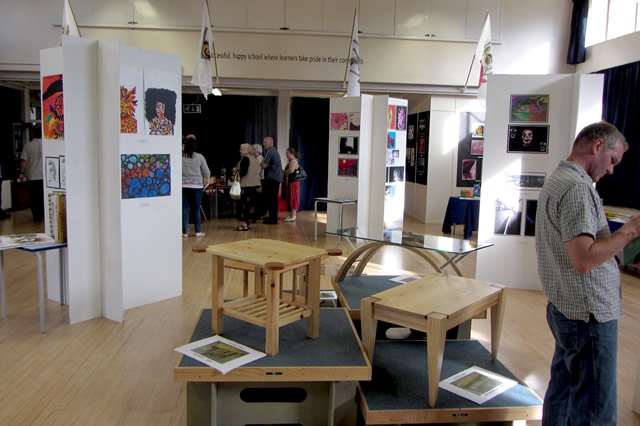 While the art work is often based on drawing and painting, much of the work now merges into photography, sometimes referred to as "lens assisted" work, for pressing the shutter is often only the start of a complex process of merging levels and using computer programmes to manipulate and transform images.
In addition to the art and photography there were examples of textile design and computer generated graphics and a very impressive collection of furniture and electrical gadgets which stood out for the high quality of their finish. Much of this work had been done under the direction of Mr David Kiddell whose sad and unexpected death leaves quite a gap in the school.
Invitations went out to parents and friends and although the exhibition was only on for one evening as the Summer Term ended, it attracted a very good turn-out of impressed adults and friends of the exhibitors. It is now something to look forward to this time next year.