Wincanton's focused community website, providing news and information including a full calendar
News » Councils » Town Council » Message from the Mayor
Message from the Mayor #7 - The Nog Inn
Wednesday 24 June 2020, 20:01
By Sue Shelbourn-Barrow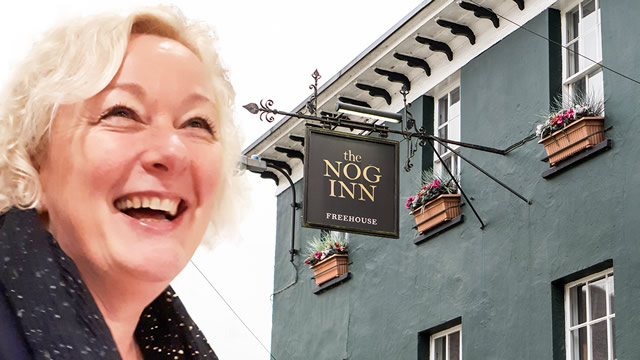 Will and Amy Cutts have adapted their business model to meet requests from customers, and they're looking to the future in our beautiful town.
A message from Will and Amy
Like many businesses, we've had to adapt and change to the circumstances we find ourselves in during the coronavirus pandemic. We have been overwhelmed with emails, phone calls and messages from people in the community, just checking that we are ok – it has really touched us.

Wincanton has also been incredibly supportive of our takeaway service, and we're enjoying it too. Our long-term project of converting the function room into letting accommodation is still progressing and we're nearly there in terms of planning. Two more bat reports and the final nod from Planning and we can go!

Our youngest son has always been a keen cook and earlier in the year decided he wanted to open a crêpe shop. We told him that in order to open his own catering business he'd need to know the basics and would have to take the food hygiene certificate. We thought that would be the end of it, but he wanted to do it, so we set him on a laptop and thought no more of it. Four hours later he gives us a yell to let us know he'd passed Level 2 Food Hygiene with flying colours!

After lock down he was keen to continue baking, but my waistline wasn't so happy. He then came up with the idea of adding some sweet treats to our existing takeaway menu with all the money going to NHS Charities Together to support the wonderful work that the NHS does.

Our future, like many, is still unknown and I suspect it will change the nature of our business forever. However, we will still be here and look forward to welcoming you all back when the time is right to do so!
Shout-out from the Mayor
The Nog Inn, like many businesses, is in the heart of our town, with a sharp focus on community. Eddie has not only produced gorgeous sweet treats, but in doing so, raised £200 for those less fortunate than himself; a selfless act of kindness for one so young. The crêpe shop sounds like an interesting idea…
Again, my heartfelt thanks and for sharing your ideas for the future.
Sue
Cllr Shelbourn-Barrow
---
Related articles