Wincanton's focused community website, providing news and information including a full calendar
Headlines » Community » Balsam Centre » Growing Space
Growing Space Garden Propagating House Opens
Monday 21 June 2010, 17:44
By Jeanette Locke and David Winter
Growing Space Chairman Jeannette Locke writes: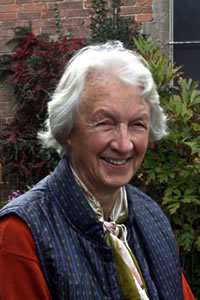 After two years of wondering if our old propagating house would collapse in the winter gales we have at last built a wonderful new house.
This new building has given us a far better space for the staff to teach and for the people who come to the garden to work and enjoy the light and warmth in all weathers.
Through the generosity of local people, especially the South Somerset District Council we were able to complete this building for everyone to use and enjoy and we are very grateful to all the funders, large and small, for making this possible.
We enjoyed a very pleasant evening on Tuesday when Tim Carroll formally opened the doors so that everyone could see the interesting display of photographs and the plants growing happily in their new home. It is here that all the propagation of plants is done to supply the vegetable gardens and the ornamental gardens around the Balsam Centre which are open to everyone in Wincanton - they are public gardens for everyone to enjoy so bring your lunch along and sit in the sun or the shade and enjoy these beautiful grounds.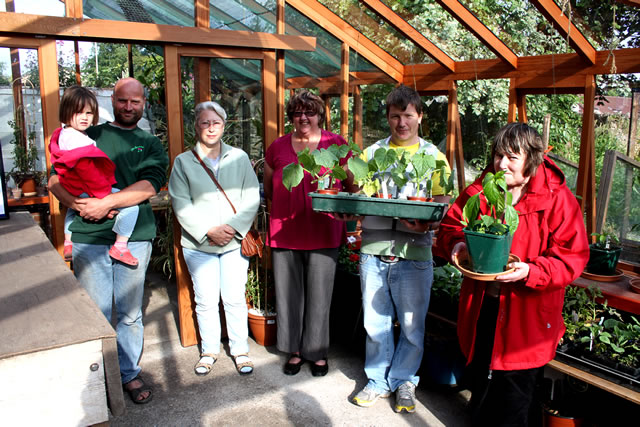 Growing Space Manager Nick with his daughter Amy, together with
Lynne, Janet, Julian and Wendy who have all worked hard on the project.
A BIG THANK YOU to everyone from the staff and trustees of the Growing space.
Treasurer David Winter adds:
The SSDC have supported us from the beginning. Without that support I don't believe that this Community Garden would ever have started. We have had ten grants of one sort or another, including a sizeable one for the propagating house. The Town Council have also been supportive, including a grant for this building as have Viridor, Sherborne Lions and the Somerset Community Foundation in the shape of Myakka Trading. We are grateful to the Friends of Verrington Hospital who have been generous to us over the years. Sixteen charities not mentioned already have grant aided and a substantial income has been generated from the services provided by the garden staff and volunteers. We have received countless donations privately given.
Perhaps the most remarkable statistic is that the National Lottery has provided and is continuing to provide funding directly or indirectly on no less than seven occasions, including three major grants. These come to a total in excess of £330,000 over what will be thirteen years. This amounts to a wonderful vote of confidence in the work which is being so well done in our gardens.