Wincanton's focused community website, providing news and information including a full calendar
Headlines » Community » Balsam Centre » Growing Space
A Growing Space Gardener and Volunteer
Thursday 1 January 1970, 01:00
By John Baxter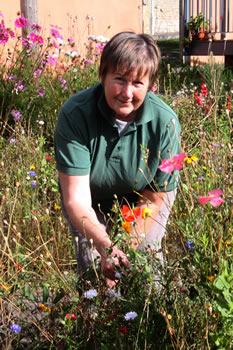 After a career which involved work as a horticulturalist Julia retired from Cheshire to live here in Wincanton and on looking around for useful things to do which she would also enjoy she came across Nick Truman who is the Community Horticulture Manager at the Growing Space and he soon got her involved.
The Growing Space is part Wincanton's highly innovative Balsam Centre. As a project the The Growing Space is a clever way of catering for the needs of a wide variety of people with very different backgrounds and situations. It gives opportunities for gardening and working with plants to those like Julia who are knowledgeable enthusiasts as well as to novices to gardening who just want to get stuck in and be shown what to do and for those who for a variety of reasons really do benefit from the opportunity of getting used to working with plants outdoors in a peaceful and supportive environment. As Julia says, "In the Growing Space we can all muck in together and the results can be amazing."
When I met her she was sorting out what she called "a grasses and perennials planting." This uses grasses which are low maintenance and flowers which are nectar rich to attract insects and seed heads to attract birds. Well, I would never have guessed all that, but they certainly looked beautiful even if, as Julia remarked, they were past their best and it was time for the perennials to be dug up.
Julia explained how for the past four years since she got involved with the Growing Space where she works every Thursday, she also works as a guide at Stourhead taking people on tree tours. She discovered that Nick and his team had been growing herbs in the Growing Space and so arranged for the Stourhead Garden Plant Centre to stock Growing Space herbs. Julia emphasised that the garden around the raised entrance walkway where she was working and which until a few months ago was something of a messy building site, had been designed by her and Sarah Darlington and worked on by many volunteers and clients. She also pointed out that several nurseries such as Knowle Gardens and Neil Lucas of Wimborne had been very generous providing the garden with plants and trees – not free, but at much reduced rates.
Clearly enjoying what she does, Julia emphasised that the Growing Space is always on the look out for more volunteers who would like to work alongside others and develop green fingers.
John Baxter
(For more about the Balsam Centre see www.balsamcentre.org.uk)