Your source for Wincanton's latest news, views and information, covering Wincanton and surrounding towns and villages
Headlines » Sport » Wincanton Sports Ground
Wincanton Sports Ground Open Day - Sunday 27th May 2012
Tuesday 22 May 2012
By David Osborne
On Sunday 27th May from 10.00am to 3.00pm, Wincanton Sports Ground in Moor Lane and its' resident clubs will be offering free coaching and taster sessions as part of their annual Open Day.
Wincanton Town Senior and Youth Football Clubs have arranged free soccer skills coaching in partnership with the Somerset Football Association from 10am-12pm. An opportunity not to be missed for all budding footballers (of all ages).
The Army are playing a Wincanton Town Select XI in a charity football match in aid of Help for Heroes. Also the Wincanton Under 13 team will be demonstrating their skills in a fun match against coaches and parents from the Youth Football Club.
Wincanton Tennis Club are providing free tennis coaching in both Mini Tennis and Adult Tennis. Fun activities such as the 'Ball Machine Challenge' and 'Hit the Target' are on offer with prizes. Free Cardio Tennis will also be demonstrated, the new heart pumping music based fitness activity at 11.30am.
Wincanton Bowls Club will also be available to offer coaching and advice for anyone over 12 interested in trying out Crown Green Bowls.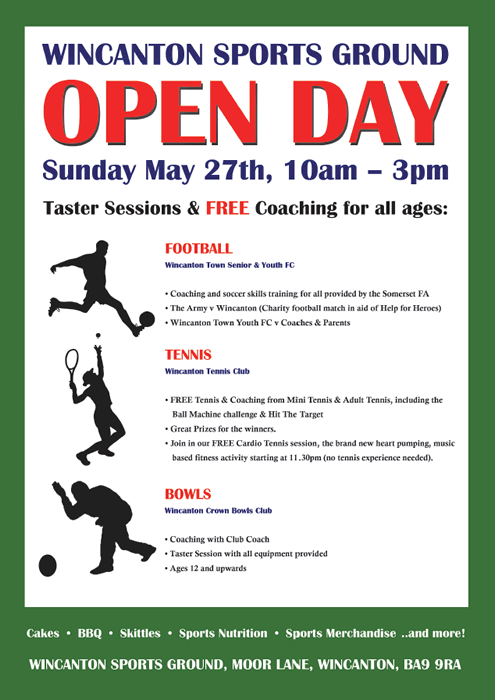 As well as the free taster sessions and coaching, Wincanton Sports Centre will be present to offer fitness tips and advice, there will also be cakes and BBQ food, skittles and sports merchandise.
It promises to be a fun active day for all the family. We hope to see you at the Sports Ground this Sunday for our Open Day!
Herbalife Sports and Health Nutrition Products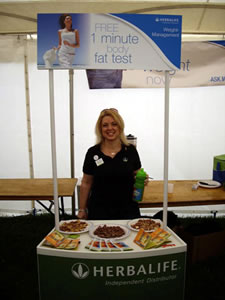 My name is Louise Blackburn and I will also be at Wincanton Sports Ground Open Day on Sunday, promoting the Herbalife range of sports and health nutrition products. Come and find me from 10.00am and there will be free chocolate samples for you to try! I am offering a free one minute body fat test and advice on how to be healthy and even lose weight whilst still eating chocolate!
Are you gaining weight and not sure why?
Are you as healthy as you could be?
Would you like someone to dispel the myths about food?
Would you like to learn what you should be eating and why as well as how much?
Come along from 10.00am for your free sample and find out how to maintain a healthy percentage of body fat whilst still enjoying the foods you love!
If you can't make it on the day then why not call Louise on 01963 350163 or text 'free sample' to 07786 063063.