Your source for Wincanton's latest news, views and information, covering Wincanton and surrounding towns and villages
Headlines » Community
What should we do about Christmas lighting in Wincanton?
Tuesday 16 May 2017, 23:24
By John Smith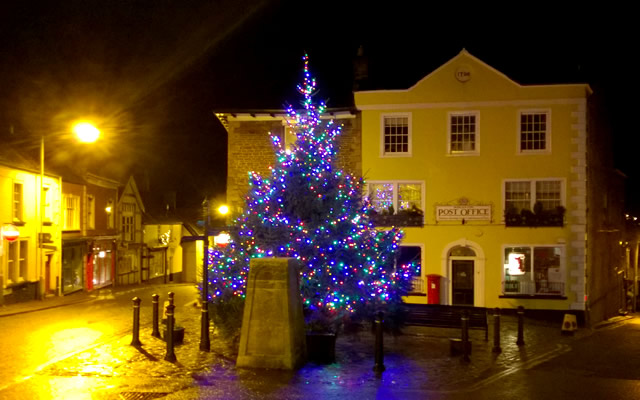 Wincanton Town Council is hosting a public meeting in Wincanton Town Hall on Wednesday 17th May at 6:30pm to discuss what can be done about Christmas lighting for the town. The meeting is open to everyone in the community, including residents and business owners.
It may only be May, but preparations for Christmas 2017 in Wincanton have already begun for many groups in our community, with plans afoot and fundraising underway. In particular, the issue of Christmas lighting has become a growing bone of contention over the years.
Many will remember the strings of lights that criss-crossed the High Street for many years; multi-coloured bulbs illuminating the town on the weeks running up to, and during the Christmas period, reaching from the town Christmas tree at Market Place all the way up High Street to the junction with Common Road.
This lighting has depended on the good grace of High Street traders willing to plug them into sockets within their premises, and in many cases their generosity in covering the cost of the power and actually purchasing certain items, including the small Christmas trees that sit in wall mounts high above the shopfronts.
Sadly, one or two incidents of damage resulted in some gaps appearing in the chain, and the style of lighting also became very dated. Attempts have been made over the years to come up with more modern lighting solutions, but like everything else in life, the cost of decent festive lighting has grown considerably.
This year Wincanton Town Council wants to make a special effort to engage with the community to come up with new ideas and listen to opinions on how lighting could be organised in future. To that end they have invited everyone to this public meeting to discuss the issue in detail and see if a new and perhaps innovative solution can be found to improve matters for this, and following years.
Christmas lighting is for the benefit of all who visit our High Street over the Christmas period. Having good, well planned lighting will enhance the look and feel of the Town Centre, and make visiting Wincanton a pleasant and festive experience.
This is an opportunity for the whole community to work together to be part of the solution, so if you can make it, come along and have your say. If you can't get there, please post comments on this article, below, or the post on the Wincanton Window Facebook page so we can pass them on to the Council.