Your source for Wincanton's latest news, views and information, covering Wincanton and surrounding towns and villages
Headlines » Community » Obituaries
Rodney Legg, "Author, Publisher and Environmental Campaigner", Dies Aged 64
Wednesday 27 July 2011
By John Baxter
Rodney Legg, the author of the most recent history of Wincanton, leaves behind a rich legacy of books, images, and writing on the history of Somerset and Dorset. He was also an indefatigable walker and effective campaigner in opening up, preserving and drawing attention to the natural richness of the countryside that surrounds us.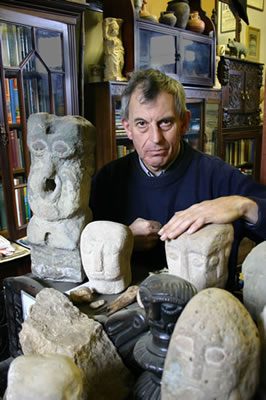 Sitting in his private storehouse of books, photographs, memorabilia and pre-Christian celtic stone heads deep in the National School Building at the top of North Street, Rodney Legg has since 1982 been working away at what he loved most right here in Wincanton.
He described himself as an "author, publisher and environmental campaigner". What comes as a shock is to discover that Amazon takes ten pages to list all the 101 books he has published, and that is only a small part of his prodigious output for Rodney has also been an indefatigable walker and preserver of footpaths and rights of way both here and for miles around having researched, trod, described, photographed and published a total of 750 country walks.
Rodney Legg was born in Bournemouth in 1947. He liked to say he was proud to belong to 'one of the commonest names among the Dorset peasantry', having presented to Dorset Archives letters home from a Wareham relative - John Hardy - who was transported to Australia in 1834. Another relation, Edward Legg, gave evidence against the Tolpuddle Martyrs at the same Lent Assize in Dorchester.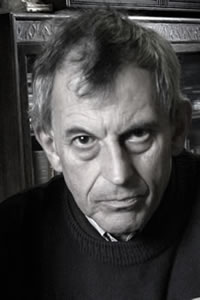 Rodney followed in this radical tradition, having been summed up to his evident satisfaction by the editor of the Blackmore Vale Magazine Fanny Charles as the 'arch-scourge (then and now) of politicians, governments, the military, and the Establishment in general'. The Guardian feature writer Patrick Wright called him 'a one-man Dorset cultural institution'.
After going to the Primary School in Charminster, Rodney attended Wincanton Secondary School, leaving with five O-levels at the age of 16. Thus ended his formal education but it was only the start of a life of relentless exploration, study, research, photography and writing.
In 1963 he joined what was then the Commons Society, becoming a committee member in 1973, and treasurer when it was re-vamped as the Open Spaces Society in 1985. He went on to serve as Chairman from 1989 to 2009. The OSS is the oldest environmental society in the country and is dedicated to "protect, increase, enhance and champion the common land, village greens, open spaces and public rights of way in England and Wales, and the public's right to enjoy them."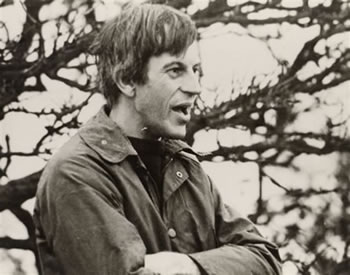 Rodney's early career was in local journalism and publishing and it took him to Essex, but his abiding passion for Somerset and Dorset, its history, archaeology and natural environment drew him back here. Always something of an individualist and a maverick he set about carving out for himself a unique career. This involved setting up his own Dorset Publishing Company from 1971 and the Wincanton Press from 1982. He also lectured on journalism at Weymouth College and then Bournemouth Institute through the 1980s. More recently he was a part-time lecturer on editing and publishing for the Media School at Bournemouth University. In the national media he produced occasional environmental features for The Countryman and The Guardian. More prosaically he has been behind the Wincanton Directory, always taking the cover photograph.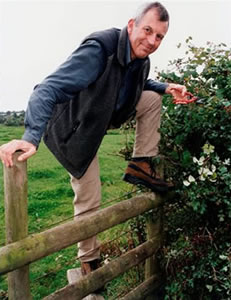 From 1967 he launched a series of high-profile personal campaigns in and around Dorset which achieved access across ten square miles of the Army's Lulworth Ranges, also to Thomas Hardy's Max Gate house, and Winston Churchill's observation bunker at Studland. He founded the Dorset County Magazine in 1968 and wrote for its Dorset Life successor until his death. He was also the founder editor of magazine titles Dorset and Purbeck, between 1995 and 2001, combining his skill as a writer with considerable ability as a photographer.
He was for some years in the 1990's a member of the Council of the National Trust, first as an appointee and then as an elected member. He was sharply critical of the secrecy and lack of democracy which pervaded the National Trust, arguing that the trust should publicise all its land on Ordnance Survey maps, open up illegally-blocked paths on its land and allow public access wherever possible, as well as purchasing land, rather than stately homes, for public enjoyment. As a member of the Access Review Working Party he was able to influence policy when it published its report, Open Countryside, in 1995. He has produced his own hardback books on National Trust Dorset and a Dorset National Trust Guide, together with a paperback study of Victorian 'common roots' in National Trust Centenary.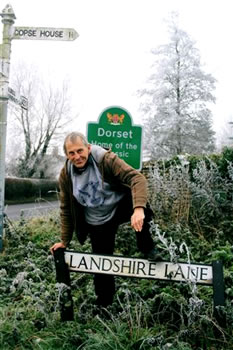 General Secretary of the OSS Kate Ashbrook, who worked with Rodney for 30 years says of him; 'Rodney was an unusual but extremely effective campaigner. You could never predict what he would say or do, but people always listened to him. 'Although he was a huge irritation to the National Trust for many years, challenging its stuffy old ways, he made a difference, persuading it to open up secret properties and to become much more welcoming. By the time he stood down from the council the old hostility had changed to a respect bordering on affection. He rarely wore a suit or tie, and arrived at formal meetings as though he was fresh from a Dorset exploration, always with an impish grin. He was impossible to ignore.'
In 1974, with the author John Fowles, he opened the Bristol Channel island of Steep Holm to the public as a memorial to their friend and naturalist Kenneth Allsop. For 25 years he organised weekly boat trips, acted as nature reserve warden, and was an Auxiliary Coastguard. The concept of a right to roam - which he was calling for more than a decade ago with speeches urging that 'Britons are given an access passport' - inspired him to tramp and claim 640 acres of open country. This square mile made it on to the Countryside Agency's map for southern England, in 2005, with smaller claims being achieved further west.
Collaborating again with John Fowles, in 1980-82, he transcribed and published John Aubrey's Monumenta Britannica, Britain's earliest major antiquarian manuscript, in two A4-sized volumes comprising 1,200 pages. It had lain in the Bodleian Library at Oxford for three centuries.
In 2005 Halsgrove published Rodney Legg's The Book of Wincanton, Roadside and Racehorse Town. Richly illustrated with historical photos and a full and informative text, it brings Wincanton's exciting saga to life right up to 2004.
It is fair to say that Rodney's work was his life. He was always researching, photographing and writing his next project. Almost daily he would turn up at Camelot Photographic in Wincanton where Graham Hiscock and Stewart Canham worked with him printing his images or in the case of Stewart photographing and helping catalogue some of his extensive collections. Both became friends and fans.
I met and photographed Rodney surrounded by his amazing collection of pagan Celtic stone heads soon after coming to Wincanton in 2005. I found him fascinating to talk to, warm and generous and quite unique. The tributes of his two friends capture this better than I can. Graham Hiscock has this to say:
Rodders was one of life's eccentric characters. Intelligent, forthright, cantankerous, amusing and witty are just some words that can be used to describe Rodney's larger than life yet endearing personality.

His knowledge of geography and history was astounding, both locally and nationally. His passion and photographic memory of both subjects resulted in a photographic archive covering a 50 year period. This collection left no town, village or hamlet within Somerset and Dorset undiscovered.

His enormous literary interest and genius led to the publication of well over 100 books, a feat in itself, and one which will carry on his name and knowledge for future generations to come.

His banter with Stewart and me and with my family will be sorely missed and I am proud to have called him "friend."
Stewart Canham writes:
I first met Rodders about seven years ago when I started work at Camelot Photographic. In fact I think he was the first person that came into the shop and Graham introduced us. When you first get to know Rodders he can be quite daunting as his manner is very correct and he will tell you what's what, particularly if you get a date wrong on some historic fact.

As time went on we became very good friends and he introduced me to a lot of very special places where I could indulge in my hobby of wildlife photography. I have sat in the shop on many occasions scanning images for Rodders which would later be sent to his publisher to go into the next book he was writing and then having to add a caption and number. If any part of what I had put in was incorrect Rodders would shout at me! But all in good fun. I remember on one occasion asking him how many books he had written and the answer came back, "Six feet and nine and a half inches." This was the space they took up on his book shelf.

I could write many pages on this wonderful person, but unless you met him and knew him they would not do him justice and having seen him on most working days for the last seven years he will be a very sad loss in my life.

Thanks Rodders for some very special memories.
Rodney was not "religious" but no-one could be more passionate about the beauty and wonder of the world we live in and few of us will leave behind more of value. He really will live on in his work.
When he knew that his time was running out (cancer) only two weeks before he died he visited the natural burial ground at Higher Ground Meadow Corscombe, outside Dorchester. There he chose where he would be laid. With its spectacular views across the Dorset countryside this place provides the perfect way to have a final positive impact on the environment. Just the right place for Rodney Legg.
John Baxter