Your source for Wincanton's latest news, views and information, covering Wincanton and surrounding towns and villages
Headlines » Community » Museum
Museum Lecture by Hendrika Foster Attracts Excellent Turnout
Thursday 3 March 2011
By Jeff Kingaby
The Wincanton History Society presented an illustrated talk on Art in Venice by Hendrika Foster on Friday 25th February.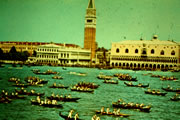 The event attracted a capacity audience which filled the Balsam Centre main hall. After enjoying a glass of wine we settled down to experience a fascinating lecture from Hendrika illustrated by her amazing collection of slides. She has a deep personal knowledge of the city where she has lead art study tours more times than she can remember. Rather than concentrate on any one artist she placed the art in the context of the rise, flowering and fading of a great maritime republic from the 15th to the 18th Century with its own unique culture and politics and strong sense of identity. It really was was a pleasurable and informative evening.
Next month the talk will be Thomas Hardy Tales on March 25th at 7.30 at the Balsam Centre.