Your source for Wincanton's latest news, views and information, covering Wincanton and surrounding towns and villages
Headlines » Arts/Entertainment
CANCELLED:

Experience Jo Burt at the Sports Ground this Saturday

Thursday 23 March 2017, 17:38

By John Smith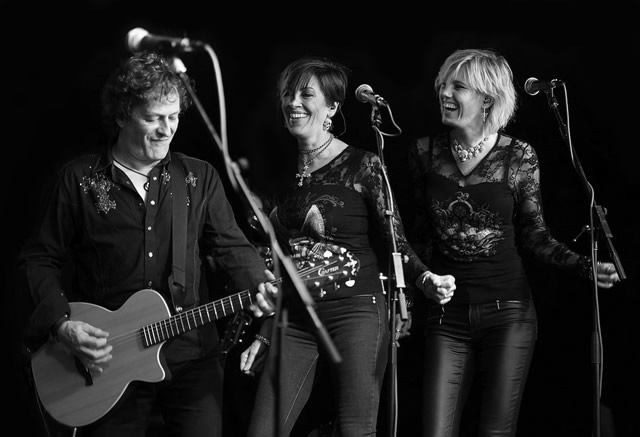 Jo Burt & Girls, copyright Brian Butcher
If you fancy a good evening out on Saturday 25th March, Wincanton Sports Ground is the place to be. Singer-song writer, guitarist, and story teller, Jo Burt, well known for his work over 40 years with legendary musicians and groups including The Troggs, Black Sabbath, and Freddie Mercury, will be entertaining at a special event to raise funds for a new skittle alley for the pavilion.
The event starts at 7:30 and Jo and his group will be performing at various stages during the evening. They'll be singing songs from his latest album, Spontaneous, due to be released in May, and older material including some of the biggest hits from bands he played with over the years.
Jo is no stranger to Wincanton, having performed on several occasions at Redfearns Restaurant over the last couple of years. Up & Down, a track on his new album, had its video shot on location at the Wincanton Sports Ground.
As well as great music, the evening will also include a buffet supper, bar, raffle, and auction. Prizes for the raffle and auction have been donated by supporters of the Sports Ground, and include a signed rugby shirt (Eden Park – Wales 2011), a designer handbag, a portable car recording DVR, jewellery, a Champion's League watch, meal vouchers from local pubs and restaurants, bottles of wine and champagne. There are two star prizes; a gent's bicycle and a coffee machine.
Tickets are on sale now at £15, obtainable from Redfearns, Ram Sports and the Town Hall. For further information contact event organiser Val Barker on mobile - 07904 075 294. You can find more information about Jo and his music at - www.joburt.co.uk.