Your source for Wincanton's latest news, views and information, covering Wincanton and surrounding towns and villages
Headlines » Neighbourhood
South Street Motorists Put Mothers, Babies and Children at Risk
Tuesday 15 May 2012
By Mandy Cochrane
This is not the first time Wincanton Window has reported on the chaos and gridlock in South Street, Wincanton. Motorists parking on double yellow lines outside Natwest Bank, sometimes on the pavement itself, are a familiar sight, causing gridlock in the traffic backing up behind them and danger to pedestrians who are forced into the road to get around the parked vehicles.
These photos were taken on the afternoon of Thursday 10 May 2012. Traffic was heavy and parents were picking up young children from school.
This mother and her baby found themselves stuck as they tried to jiggle their pushchair through the narrow gap left by this flat-bed truck parked up on the pavement. They eventually had to give up and wiggle back the way they had come. They had no option but to walk into the road to get around the truck.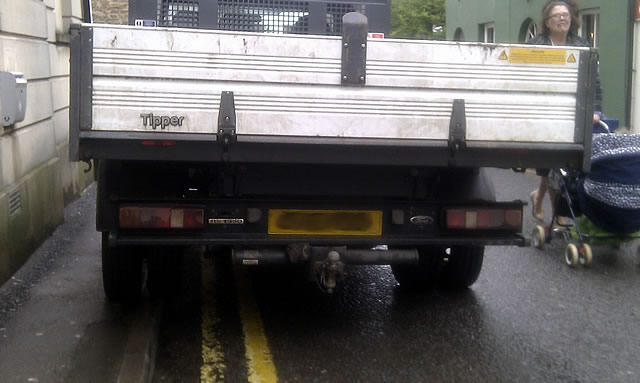 The family suffered no worse fate than grimy smears where the baby had brushed by the truck, but it could have been a very different story. Immediately behind the flat-bed truck another vehicle was parked, a Vauxhall, with all four wheels on the road this time but still blatantly flouting the double-yellow lines.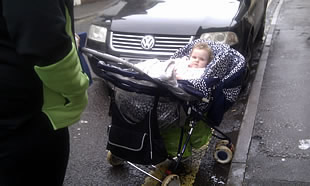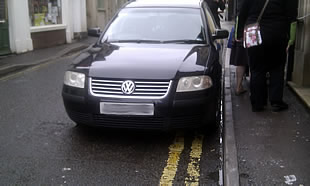 A few minutes later more children were spilling out of school. Traffic in South Street was heavy, not unusual at this time of day. Space on the pavement outside Natwest Bank was even more limited as people queued to use the cash-point machine. Parents and children again took to the road to get around the truck.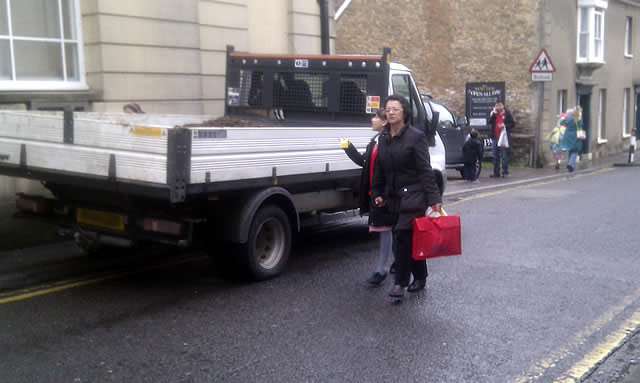 At the very same time this hazardous parking was causing havoc to young families, a white van belonging to Northbrook Building Contractors was parked almost completely on the pavement outside the Town Hall, on the corner of South Street. Pedestrians could squeeze through the gap left by the van, but again, pushchairs or wheelchair users would have found it necessary to walk into the road to get around it. The potential consequences of this are unthinkable on this blind corner with vehicles turning into South Street from Market Place and also converging from the High Street.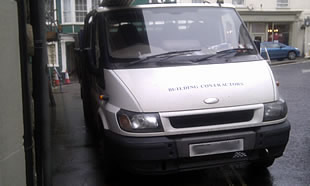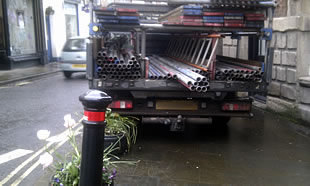 No doubt Northbrook's workers would say that there's no practical alternative to parking this way when working in such a location but that doesn't make it any less potentially dangerous for pedestrians.
Copies of all these photos were forwarded to local police and their comments invited. PCSO Dan Arthur replied that the information had been passed to the Wincanton Neighbourhood Beat Team for their information, adding a request for future incidents of this nature: "Please contact us at the time of the issue on the '101' number - particularly for incidents similar to this. Calling our control room will enable officers who are on duty at the time to be made aware of the issue and attend to resolve accordingly in a more timely manner."
It's time this problem was given some serious thought. Breaches of parking regulations in this spot are so common-place now that you'd need a traffic warden on permanent duty there to change people's habits. Narrow the road, remove the cash-point machine or put up CCTV and actually prosecute offenders - before someone gets hurt.