Your source for Wincanton's latest news, views and information, covering Wincanton and surrounding towns and villages
Headlines » Churches/Religion » C of E Parish
Parish Church's Gift Day in support of 'Roof Aid'
Wednesday 21 March 2012
By Richard D'Arcy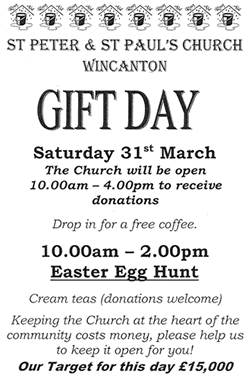 The Parish Church of St Peter & St Paul is at the heart of Wincanton. It is a much loved town-centre building, and has held a special place in the heart of the people throughout its long history. But sadly at present this wonderful building has a 'holy' roof - and needs major repair.
As part of the Roof Aid fundraising programme of events, a Gift Day is being held in the Parish Church on Saturday 31st March. This will provide an opportunity for the community to contribute towards this rescue project, preserving our church for future generations, in the years to come.
During the year of 2012 we have to raise £75,000 and our aim is to raise £15,000 during this one-day Gift Day. Any welcome donation can be brought to the church during this 'Gift Day Special' or if this is not possible, to the Parish office in the high street during the week.
Throughout the day, within the church, there will be displays and photographs from the archives. Refreshments will also be available, including cream teas. An Easter Egg Hunt will be taking place as an added attraction from 10.00am - 2.00pm.
We look forward to meeting all parishioners who are able to join us. A warm welcome awaits you.