Wincanton's focused community website, providing news and information including a full calendar
Headlines » Have Your Say
Exclusive Jubilee Scoop - Where the Windsor's Really Went
Friday 15 June 2012, 13:31
By John Baxter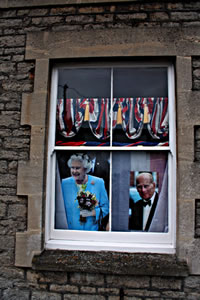 All that smiling and waving. It really gets a bit tedious. Particularly if you are a mature couple who have been doing it for sixty years. One must feel sympathy for them. So what could be done?
Prince Phillip came up with an idea. Get the Palace to contact - very discreetly of course - one of those agencies which specialise in employing doubles. The sort who open supermarkets and shopping malls and pretend to be the Queen or other grade A celebs. The Palace could then employ a couple of them to take over for a day of the celebrations, so giving the Queen and the Duke a break.
Then what? Her Majesty knew immediately. She had felt it was so unfair that despite having had to visit boring old Sherborne and Yeovil with all their pushy people, she had not been able to visit an old friend who lived in that jewel of Somerset, South Street, Wincanton. So that is what they did.
Only a few people noticed them pulling back the curtains to watch the children coming out of school. After that they had tea in their friend's beautiful secluded garden at the back. The Queen's old friend is actually French, as can be inferred from her superior decorations, but she wishes to remain anonymous, just in case they wish to get away from it all and come to visit her again.