Wincanton's focused community website for news, views and information including a full calendar
Headlines » Service Providers » The Office Elf
Mon 9 May '11, 20:23
By Mandy Cochrane
Crank up the pulling power of your web site and get more from online marketing with this FREE seminar on Friday 13th May at the Balsam Centre. Lots of tips and ideas to help you reach new customers.
Fri 2 Jul '10, 08:46
By Mandy Cochrane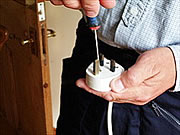 After some sharp and shady selling techniques from a PAT Testing company, I decided to investigate the facts about having your office electrical equipment tested for safety - the results were illuminating.
Fri 27 Nov '09, 16:52
By Mandy Cochrane
If you're in business for yourself there are always a thousand and one administrative tasks screaming to be dealt with. Stop shooting the nearest alligator - here's how to get rid of them... the VA way.
Showing 1 - 3 of 3 Articles