Wincanton's focused community website, providing news and information including a full calendar
News » Nature » Gardening
The January Garden - Adding Colour & Planning New Planting
Monday 7 January 2013, 14:26
By Andy Cole
The weather seems to have improved a little for the first few days of the month.
Most things in the garden are dormant now and apart for the few odd bits to catch up on like digging the vegetable patch, pruning the wisteria, checking the fences for wind damage etc, all is quiet.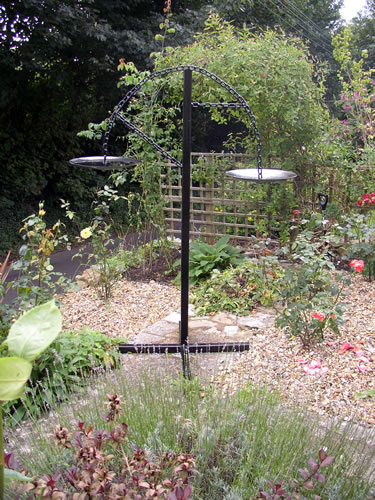 To add a new dimension to your garden as well as add some colour why not get yourself a good bird table and feeding station and some bird food to encourage them into your garden? Dried mealworms are also good, a great treat and entice the bird in. Don't forget to provide high fat foods to give the birds increased energy to help them keep warm.
What could be better than sitting by the fire with a cup of tea looking out at the colourful wildlife nature has supplied?
Take the time to look at what plants you want to put in next year.
While you're planning your flower beds, I wanted to share a thought with you regarding roses. You might call it a bit of an old wives tale or you might say it's a treatment or practical solution for the garden. Years ago I remember my grandfather had a lovely rose garden with what I now call old-fashioned roses; the scents and colours of the blooms were amazing. At that time I was about nine years old and my interest in gardening was probably non-existent; however these rose made an impression on me.
One day I asked my grandpa what the other plants were in the rose bed as they looked odd in the bed. "Come with me and I will show you," he said, so off we went. We looked at the roses which were as usual lovely, then he told me the other plants were lupins. "See those bugs on them? They're green fly / aphids, but there are none or very few on the roses. That's why I grow the lupins – to protect the roses."
There was no denying that the roses had very little green fly and that this was working, but he also used to water them with soapy water once a week. This, he said, also helped to keep the bugs away.
Sadly, before my interest had grown and my destination in life was to be a gardener, when all that information he had stored after a lifetimes work would have been of interest to me, he passed away, taking it all with him.
What snippets of information or old wives tales do you have which would be interest to all the gardeners out there who don't have a lifetime of experience to draw on?
If you would like to see what else to do in the garden in January visit our web site www.lifestylelandscapes.co.uk.