Wincanton's focused community website, providing news and information including a full calendar
News » Nature » Gardening
The Garden in Winter
Friday 11 February 2011, 20:15
By Sarah Darlington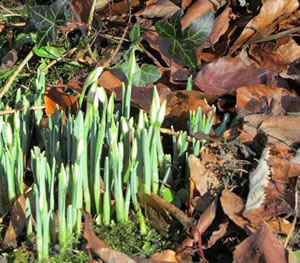 Snowdrops photographed this January at Stourhead
'I'm sure the days are drawing out.'
How many times have you heard that since the start of the month? On our damp, dark island, there seems to be a national preoccupation with peering into the dusk, persuading ourselves that spring is approaching.
And it is lighter in the evenings - a bit. The birdsong has changed and snowdrops are pushing their way out of the chilly ground. There's a whisper of optimism in the air and gardening is back on the agenda.
When it's mild, it's a good time to plant bare-root trees, shrubs and roses and not too late to order them from specialist nurseries.
Bareroot means just that: plants which are sold without pots. During the winter, whilst they are dormant, plants are dug up and carefully wrapped to retain moisture before being dispatched to you, the customer.
Most of the plants sold this way are deciduous but you can buy evergreen hedging plants, such as box, as bareroot plants and they are much cheaper than buying container-grown plants. They also tend to establish more quickly.
Most specialist nurseries sell by mail order and produce informative and tempting catalogues. I've been ordering fruit trees this winter from Adam's Apples (www.talatonplants.co.uk) in Devon. His traditional apple trees have irresistible names: Bloody Ploughman, Hoary Morning, Reverend Wilcox. What inspiration for a murder mystery -- Miss Marple finds out whodunit in the orchard with the pruning knife.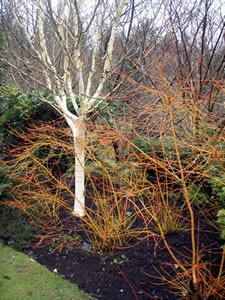 Himalayan Birch and Cornus
'Midwinter Fire' at RHS Rosemoor
Winter is a good time for planning and it's worth visiting gardens for ideas (and cakes and coffee, maybe).
The RHS garden at Rosemoor in Devon has a stunning winter garden with lots of colour and structure. Bone-white birches contrast, red, yellow and lime-green Cornus (or dogwood) stems and delicate grasses scintillate in the frost. The café is good too.
Closer to home, Angela Whinfield of Snape Cottage, Bourton, mentioned elsewhere on this website, opens her gardens for 'Snowdrop Days' in February. A galanthophile, or snowdrop enthusiast, she has over 300 varieties in her garden in addition to many other unusual early flowering species. She is open on 26 and 27 February from 10.30.
Salix vitellina 'Britzensis' is a bit of a mouthful but this lovely winter tree, otherwise known as the Scarlet Willow, has red stems which glow in the low sunshine. It's a tree which doesn't need an enormous garden because it can be kept small by pollarding. This means giving the plant a really good haircut every couple of years in April, to encourage the new stems.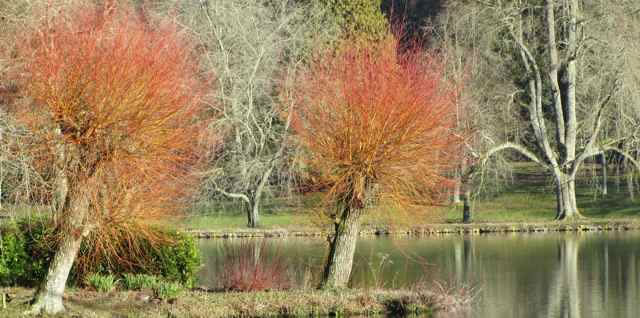 Pollarded Scarlet Willows at Stourhead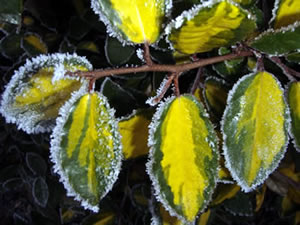 Eleagnus maculata 'Pungens' has
deliciously scented flowers in winter
Glossy greens come into their own now. I'm not a big fan of the good old laurel but in winter, the leaves glitter with reflected light.
Variegated plants create light too. Euonymus 'Silver Queen' is compact whereas Eleagnus maculata is a sprawler once it is established. Its creamy scented flowers are a winter bonus.
Clipped evergreens give the garden a bit of shape and structure at this time of the year but so can skeletal deciduous trees, shrubs and even perennials.
In fact, some perennials look as good in death as they did in full bloom, especially when dusted with a little frost. So spare the shears and tell people it's not untidy, it's artistic.

Tangled twigs make dramatic silhouettes.
Most of us won't have room for this garden building though!

Dead but still pretty
Next month: Winter flowers for your garden
Sarah Darlington