Wincanton's focused community website, providing news and information including a full calendar
News » Nature » Gardening
Sarah Darlington on Small Gardens
Tuesday 13 July 2010, 18:38
By Sarah Darlington
Small is beautiful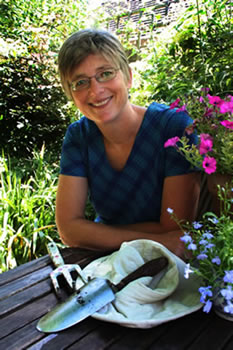 Glossy gardening magazines overflow with images of lavish gardens. Glorious acres opulent with roses, clematis and wisteria. For most of us though, particularly if we live in new properties, the reality is much more modest. I'm frequently asked for help with gardens which are no more than a few metres across - so I thought a look at designing small gardens might be a good starting point for our new Wincanton Window gardening column.
Small gardens are often real sanctuaries of calm in our busy lives and can really express their owners' creativity and ingenuity. The French writer Pascal once said he was writing at length because he needed more time to write a shorter letter. Similarly, it is more difficult to achieve success in designing a small garden than a large one. Like fitting out a caravan or a boat, squeezing everything into a small garden requires discipline and neat solutions.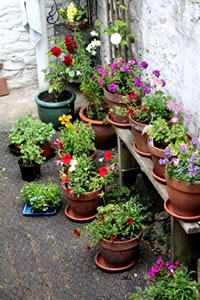 The tenets of garden design are to conceal and reveal, to create surprise and mystery, to provide a journey of discovery. In a typical modern garden this is not easy. Everything is on show - dustbins, washing line, compost bin, the lot.
I am currently designing a client's ten metre square garden and it's given me the excuse to look at some real gems in the name of research. A favourite is one of the secret gardens of Wincanton: Elizabeth Baxter's typically narrow garden behind their Victorian terrace.
Just outside the kitchen window, white-washed walls provide a light backdrop to a colourful range of bedding plants which jostle for space on the steps leading up to the next level.
Here a path bisects generous borders and leads to a sunny spot which is perfect for a summer lunch.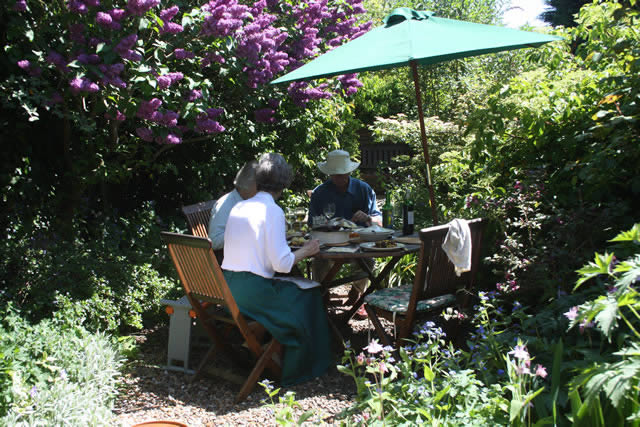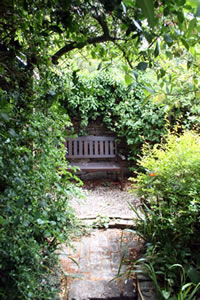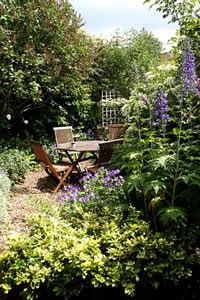 The central position of this dining area creates an illusion of space as one looks back down the path to the house or up it to the end of the garden where a bench catches the evening sun.
The bench makes a focal point, extending the length of the garden. Effectively, the narrow rectangle of the garden has been broken up into three spaces each of which simultaneously draws the eye and halts the gaze, making the visitor slow down and take in each part of the garden individually.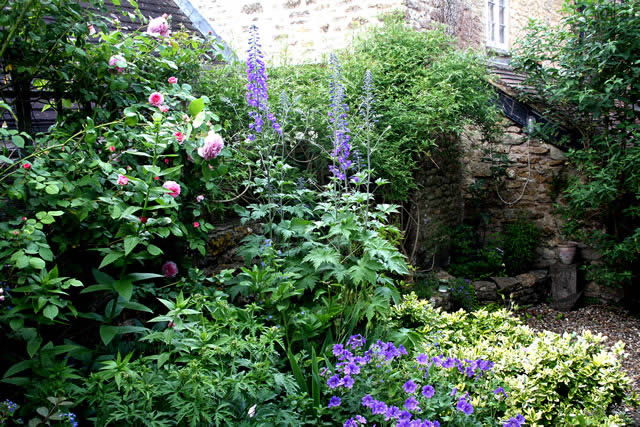 Elizabeth has been bold in her choice of plants, going for some large shrubs and perennials which many would shy away from in a small space. The effect is to evoke the suggestion that there is more to the garden than meets the eye and in a way that's true because the shrubs conceal a small washing line, a shed and compost area.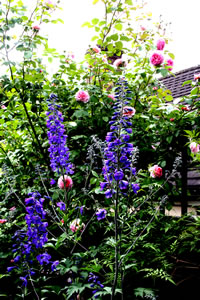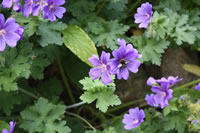 She's also chosen some plants which have a relatively short season like the spikes of delphinium which draw the eye upward and provide 'wow factor'. Once they're fading, it'll be the turn of another plant to take centre stage and be the star of the moment. Planting like this requires skill and genuine interest but the 'look' can be imitated by the less experienced gardener provided he or she chooses plants carefully and is prepared to put in some time.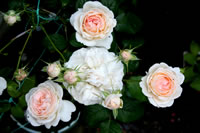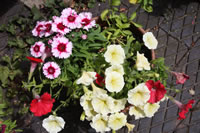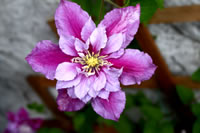 An opulent rose scrambles high over the neighbour's fence - 'borrowing' a bit more space - an elegant greeny white snapdragon on the steps begs closer inspection and not even the next door neighbour's power tools can really break the restful atmosphere.
It could be straight out of the pages of a glossy magazine...
Sarah
(photos by John Baxter)
---
And here are some ideas for how to make the most of your small garden:
Deciding how you want to use the garden will help you to choose what goes in it. A young family will have different requirements to a retired couple.
Keep the design simple: not too many shapes, textures and colours.
Create different levels in the garden by using raised beds and pots and by clothing the walls with climbers.
Plant in swathes, not dots - a block of several plants of the same species looks better than lots of different ones.
Plant large-leaved plants in front of small-leaved ones to create an illusion of distance.
Choose your plants carefully: avoid shrubs and trees which are going to outgrow your space and be prepared to prune ruthlessly.
Create visual links between the outside and the inside of the house by using similar materials, for example slate flooring could be extended outside. Weathered decking 'extends' wooden flooring.
Pick up colours from the house - with plants, garden furniture or even garden walls. Be selective though - a little goes a long way.
Consider painting boundary walls or fences in dark colours to make them recede into the background.
Water - even a very small water feature - creates a focus. The light reflects on the water and the sound contributes to the feeling of a peaceful sanctuary.
Choose furniture which is in proportion with the setting and light enough to move round the garden easily.
Use the tops of retaining walls to provide extra seating.
Most importantly, buy plants which will suit the situation of your house and soil - a Mediterranean garden will never thrive in a shady spot but lush ferns and foliage plants will look great.
Remember if you want to contact me or see more about my work see www.sarahdarlington.co.uk or email me: