Wincanton's focused community website, providing news and information including a full calendar
Headlines » Have Your Say
Observing and Living in the Moment
Tuesday 1 November 2011, 22:21
By John Smith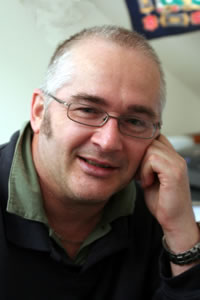 Life today is very different than life 50 years ago. I guess that life changes generation by generation. We all tend to look back and thank God that we didn't live 50 years ago. We live in a world with much more pressure being put on us from all angles. More than ever it's being impressed on us that we need to look and plan for the future. So much so that we all too often lose out on "today". What does that mean?
I challenge you to think about today. Where are you right now? Are you in your home having just taken the infantry to school? Are you in the office, the shop floor, or like me, staring at your pc screen hoping for inspiration? Wherever you are this moment in time is called "today", and "today" is more important than you think. Today is full of amazing moments and opportunities, just waiting for you to find and react to. But, with the passage of years, and indoctrination into the system of planning for the future many of us have mislaid that ability to enjoy "today" and all that comes with it.
Day by day we dig our way into that daily routine that becomes so comfortable. Before we know it we are living live in an automatic routine. It takes minimum of effort, and in fact to break that routine takes more effort and hassle, so we often settle for the easy option. But I want to encourage you to make that effort. I dare you to stick your head above that groove and have a look at today. I dare you to become an observer of life around you. Get up in the morning, pull the curtains back and look at the sun rise. Some will be dull, but some will be glorious and inspirational.
On your way to work be an observer and take in what is going on around you. Check out the multitude of people around you trying to live their daily lives. See the expressions, listen and hear. It's amazing what happens. You will discover a whole new layer to daily life. Life becomes much more interesting.
You need to learn to be an observer, especially if you are in business. Life and all business have one major thing in common. They are all about people. In life and business we need to learn to love and appreciate people, even with all their faults and failings. Take people out of the equation and what do we have? Nothing, Zip, Nada, Nil. Your business can change for the better if you become a people person, and observe and listen. You will discover opportunities that were once invisible. Your own life will be enriched.
On our recent holiday Jane was making fun of me because I hate swimming in cold water. You know that feeling as the water touches the waist line. That point when you either scream out or take a deep breath and tough it out till you are over the shoulders and getting used to the artic temperatures (And that's the hotel pool).
There I was, at waist level, Jane covering her ears and hiding from the world, waiting for my usual exclamation. I didn't disappoint her. After all the Atlantic Ocean around the coast of Madeira is the same one that freezes the British Isles, and in my book just as cold. However in this instance my exclamation and pulled face clearly amused a lady on the way out of the pool, and we got chatting (surprise, surprise I hear you say). She was a nice lady from the Manchester area on holiday with her friend. We struck up a good conversation that ended with her committing herself and her friend to taking Jane and I on a Lavada Walk (irrigation channel walk). Her friend had had five bypass operations, so on the day of the walk we were blown away when he shot off like a mountain goat and we struggled to stay the pace for the next 16 kilometres (that's right, 16 kilometres).
After eight kilometres, a light lunch and then another eight kilometres we arrived back at base feeling hot, sweaty and desperate (and I mean really desperate) to get into that freezing pool. What a day. It was brilliant. We saw wonderful sights on the island from a completely different view point. We had a great time with a lovely couple.
Because of a bit of observing and acting on it in the moment our lives were enriched. Our holiday was enriched, and to cap it all we made two new friends. So, learn to observe what happens in each day. By all means plan for the future because that is so important in these modern times. But make sure that you don't lose out on "today". Observe today and live in the moment. Why don't you write/e-mail your special moments and cheer someone up today?