Wincanton's focused community website for news, views and information including a full calendar
Headlines » Tourism
Ecuador - a True Adventure
Wednesday 18 May 2011, 16:45
By Cassandra Allen
[Editor: Cassandra Allen is a 17-year-old from Wincanton. This is the story of her exciting journey to Ecuador last Summer]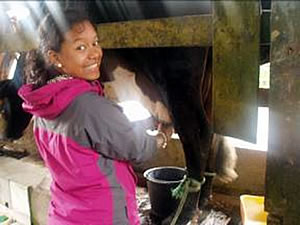 I have always loved traveling and when my school (Warminster School) announced the date for its bi-annual trip to Ecuador I just couldn't wait to put my name down. This was of course no ordinary school trip however; to me it was a once in a lifetime opportunity. The planned three week expedition was to be split into three stages; the first was based in the cloud forest where we were to carry out conservational work on the land, the second in Quito working with disadvantaged street children in a local school and the third in the Amazon jungle with local tribes. It all sounded very exciting, I now just needed to raise the £2595 to go.
I started by listing a few initial ideas on paper, some of them really were not practical, as at the time I wasn't yet 16 and couldn't get a proper part-time job, but I managed to get a few fundraising ideas under my belt. I sent flyers around my local community, asking if anyone wanted car washes, dog walking, wheelie-bin cleaning or even shopping brought to them. A few people rang me up, and soon I was dog walking for a few months for a couple down the road, car washing and cleaning a pea-chick's cage every weekend....quite an unusual job but I was happy to do anything as I had Ecuador permanently set in my mind.
With just over a year to go to the departure date, I turned 16 and managed to get a part time job in Sparkford. Money soon rolled into my bank account as I worked as many hours as I could in the summer holidays and weekends in term-time. Along with the group I was going with, we planned Bag Packing days in local supermarkets offering to pack bags to customers. This was a great success due to the kind generosity of the general public. At our school, we also put on an 'Ecuador Quiz Night' and invited parents, friends and the public via posters and even local radio. The night was a great success with a great selection of raffle prizes to be won too, raising over £800 which was to be split between the group and projects out in Ecuador.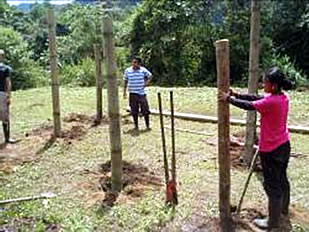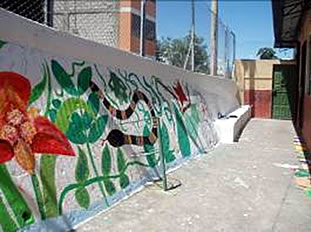 The date for departure was in sight and the number of installments was reducing which meant it was nearly time to leave. There were only a few things to do before I left including packing, expedition hoody name planning and immunisations and before I knew it was in Heathrow airport along with the rest of the group, ready to board the plane. As I took my seat on board, I was filled with so many emotions; nervousness, tiredness (from not being able to sleep all night) but mostly excitement. Bye bye England... HELLO ECUADOR!
Exploring the Napo River by canoe, hiking up slippery waterfalls, teaching English to children, painting a mural, white-water rafting, milking cows, bartering, Spanish lessons, hunting workshops, trekking through the Amazon jungle and up Cotopaxi, visiting the middle of the world, experiencing Ecuadorian cuisines including the delights of local guinea pig, the trip was jam packed.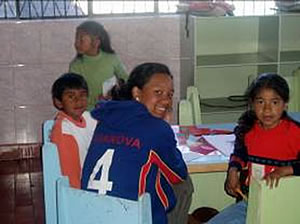 The school community project was one of my best parts of the trip. Visualise 120 Ecuadorian children all running up from every direction jumping up onto you and playing with your hair. Because at first that's all they did. It all started with limited conversations due to language barriers but it quickly turned into a loud arrangement of 'head shoulders knees and toes'. Each person managed to somehow pack a shoe box in their rucksack which was given to these children - a memory that will never be forgotten as I witnessed their faces light up when they each received their gifts, no matter how small. Whilst here we also painted a 14 metre mural of a rainforest scene which took four days, with us each taking turns to supervise, occupy and distract the children as they all seemed to want to dip their hands in the pots and paint themselves instead of the wall. I also taught two children, Melanie and Christian, English and they took so much pride in learning with me that it made it much clearer to see how much we take education for granted here in England. When we left the school project I felt really sad as I had enjoyed being with the children.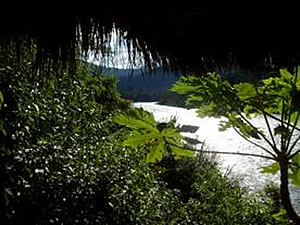 In another part of the trip, we made and provided 200 sandwiches which we gave to parents and carers at St Boritz, a local children's hospital. Our guide told us a bit about the children there and their stories, and when we left tears started to trickle down our faces. The stories were heart-breaking to hear, which just made me want to take back a child home to England to look after them.
The visit to the Amazon was incredible; waking up to the sounds of the whistles in the rainforest was like nothing else. During our stay, we took a day trek to a waterfall, which was challenging with the extremely hot weather and humidity. Nevertheless the vibrant colours of the plants and trees and different birds made all the hard work worthwhile. The kind villagers and local tribe people are always willing to let you learn their way of life; their traditional dances will be an experience never to forget.
We also had the chance to visit the middle of the world, where I balanced an egg on a nail (second time lucky I'm afraid, as I broke the first one) and practiced my Spanish and bartering technique whilst shopping for presents for our family and friends.
Ecuador gave me the most amazing experience I have been on. I learnt so much about myself and I truly loved having the most fantastic team around me all the time. Many people when they go on expeditions like this have difficulty bonding and mixing but I can honestly say that the team was the best and there were certainly some hilarious characters. We even made an Ecuadorian friend who some of us still keep in contact with. Like many others, I have promised myself to return one day to see the continuation of work we had begun.
To anyone who is reading this, and has the opportunity of going on an expedition like this, take the whole experience with both hands, you certainly won't regret it. I promise you.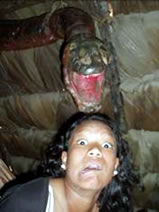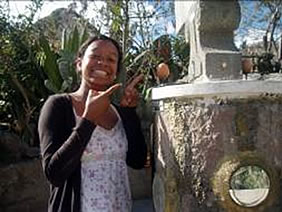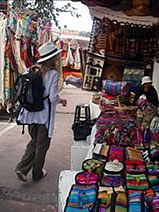 Cassandra Allen