Wincanton's focused community website, providing news and information including a full calendar
Headlines » Have Your Say
Drawing a Line in The Sand in 2012
Friday 6 January 2012, 17:23
By John Smith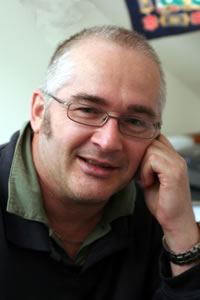 By the time you read this we may already have crossed one of the most famous lines in our annual calendar. Of course I'm referring to that annual festival that we call "New Year". Having been born and grown up north of the border I can well remember many New Year celebrations when gathered with family members, drinking lots of homemade ginger wine (well I was only a young lad at the time), washed down that other favourite, home-made shortbread (mmmm, I feel peckish at the very thought of it).
It's a great time of year when that universal Christmas celebration is followed quickly by celebrating the arrival of a New Year. It seems that most religions throughout the world have some sort of celebration for both. But what has New Year got to do with business? The simple answer is nothing, that is, unless you want it to. It's just another date in the calendar, and an excuse to indulge in good food and wine (Ok, I've grown up now and my tastes have now broadened out a bit).
But as we now move into 2012 I believe this gives us a unique opportunity. We have the opportunity to reflect on the last year. That year has included both highs and lows in our personal lives, but also in our business lives. As business men and women we all have accounting years. That dreaded time when we have to prepare our annual accounts for submission to that favourite of friends that all love (to hate). The Tax Man. He is such a nice man, and as we all know he is a man who has serious financial challenges. His income is limited, and to feed his family he relies totally on the charity of the people of our nation. So at least once a year our hearts go out to him, and we all send our donations to keep this nice man and his wife and children with food on the table and clothes on their backs.
Having said that, it seems that there is hope for this poor chap, as I believe that he has managed to save enough money to be able to take one or two friends out for a "Thank You" meal and to say that he doesn't need so much charity now. This is great news indeed. Maybe we really are getting closer to the time when we won't need to send donations to him. Watch this space.
Back to the point. There are probably many places where we can reflect on time past, but New Year is probably one of the best. At midnight on the 31st December we cross that time line separating the old year (2011) from the New Year (2012). This presents us with an amazing opportunity. We are able to draw a line in the sand.
This is a time when we can look back and learn from all our experiences in 2011. We can look at what has gone well, and what hasn't. We have a great opportunity to learn from these experiences and prepare for the year ahead. I'm sure you've heard it said that history tends to repeat itself. This is very true indeed. The problem is that we tend to repeat the mistakes of the past. We seem to find it hard to learn from history. As in most things in life, there are usually two sides to everything. There's the positive side and then of course there is the negative side. So this New Year gives us the opportunity to reflect on the experiences of 2011. It gives us the chance to learn from our mistakes. We need to take a cold hard look and see where we went wrong, and sort it out. If history does repeat itself doesn't it make more sense to look at all those 2011 negative experiences and say, "That didn't work well at all, so in 2012 I won't do that". We can also say "In 2011 that worked really well, so we better have more of that for 2012".
I know that I have some very hard heart searching to do. I'm one of those soft touches that find it very hard to say "No". As a result I know that I have cost my own business money because of getting too absorbed in other (albeit excellent) causes. I suspect that there are many out there who can relate to my challenge. You are trying hard to run your business, but you also try to help build up your business community. I suspect that many of you out there who chair Chambers of Commerce and Business Associations will relate to what I am saying.
So, for me, one of my New Year resolutions (I think I may have to have many), is to cultivate much more discipline in my work practice, and not get waylaid and diverted from what I really need to be doing. Believe me when I say that this will not be easy. It will be a major challenge. I happen to be one of the most illogical and disciplined people out there. But I know that if I can win this battle, my business will be all the better for it, and this will have a positive knock-on effect on our clients and many people around me.
So as we cross this amazing dateline, moving from the old 2011 to the new 2012, will you join me in drawing a very clear line in the sand? The "Old" is at an end and the "New" is upon us. So may I take this opportunity to wish all our business communities, all you Chairs of Associations, and of course all who read this article, a very happy and prosperous New Year. May 2012 bring us all the ability to learn from past experiences and give us a surer footing for the year ahead. May we all learn and grow as we go into 2012.