Your source for Wincanton's latest news, views and information, covering Wincanton and surrounding towns and villages
Headlines » Charity
Women's Domestic Violence Refuge Launches Local Appeal
Thursday 8 December 2011
By Christine Dean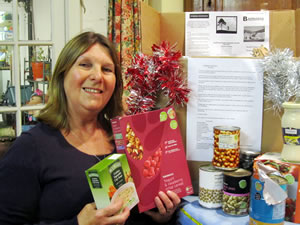 Can you spare a few items to bring some festive cheer to women and children who will be spending this Christmas at a domestic violence refuge? Liberty House in Yeovil is the refuge under whose protective wings many women and children will be sheltering this year.
With the current economic climate, as with many other organisations, the women's refuges are also being affected by local authority cutbacks in grants and funding. You are probably tired of hearing the same thing about all these people suffering from cutbacks.
Where I think this one is different is the women and children who end up depending on refuges do not choose to be there. They are victims who are forced to leave their homes to escape from violence and abuse, often with only what they are wearing.
If you could spare something from your store cupboard or add one or two items to your shopping basket it would be very much appreciated.
I would like to help provide non-perishable foods to enable them to put together a meal to provide a degree of normality and comfort. Also, some small items for children e.g. toothbrushes, toothpaste and other toiletries or little comfort items.
The local collection points listed below will accept your donations from now until Christmas and possibly into January.
SSDC Council Offices at Churchfields
St Luke and St Teresa's Catholic Church
The Balsam Centre
St Peter & St Paul Parish Church
Examples of donations:
Baked beans
Tin of frankfurters,
Packet of smash
Tinned vegetables
Tinned fish or meat
Packets of cous cous or noodles, pasta or rice
Tinned tomatoes
Biscuits
Cereals
Packet of teabags
Jar of coffee or hot chocolate
Soups
These are just a few suggestions; please add anything else you think would be suitable as long as it is non-perishable.
Any household items you no longer use, would be appreciated as they help when the women are resettled.
Thank you very much for taking the time to read this and I hope you feel it's worthwhile. If you wish to contact me please telephone 01963 34060.
Christine Dean