Your source for Wincanton's latest news, views and information, covering Wincanton and surrounding towns and villages
Headlines » Charity
Walkabout in Castle Cary for Children's Hospices on 1st May
Thursday 28 April 2011
By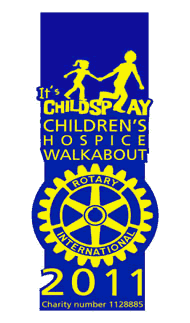 The Rotary Club of Brue Valley and The Rotary Club of Shepton Mallet are cooperating to hold an "It's Childsplay Rotary Walkabout" in Castle Cary on Sunday 1st May.
Anyone can take part in this annual gathering (a pilgrimage) of people who want to support the Children's Hospice Movement. You choose how far and where you walk.
The Castle Cary Event will start and finish at the Market House in the centre of Castle Cary.
Choose your walk - you will be provided with details of a range of walks with distances up to eight miles.
Choose how far - the footpaths across Lodge Hill are popular with Castle Cary residents or for the more ambitious you can extend your route towards Hadspen and Pitcombe returning along parts of the Leyland Trail to Ansford and back to Castle Cary.
Choose when you start - a cup of tea will welcome you on your return provided you reach the finish before 4:00pm.
The "It's Childsplay" green T-shirts are presented to all participants as this is traditional dress for the event and helps to raise awareness of the event and the Children's Hospice.
Entry fee or sponsorship - a minimum of £10 per adult will qualify you to enter and receive the T-shirt.
You can pre-register on the website www.itschildsplay.org.uk and we will arrange for you to receive your T-shirts before the walk OR enter on the day at the starting point from 10:00 am.
"Walk a Mile and Gain a Smile"