Your source for Wincanton's latest news, views and information, covering Wincanton and surrounding towns and villages
Headlines » Health & Fitness
The Wincanton Weight Loss Club
Thursday 1 March 2012
By Louise Emma Blackburn
Following the success of the Castle Cary and Ansford 12 week Weight Loss Club, a new club is starting up in Wincanton on Wednesday 7th March 2012 in The Wincanton Sports Centre from 12.00pm to 1.00pm.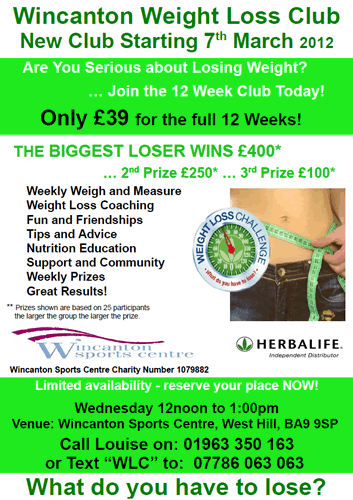 The first Castle Cary and Ansford Weight Loss Club finished a week before Christmas and 90% of participants returned on the 9th of January to join the next course - not one participant had gain a single pound over the Christmas and New Year period!! If you are looking for a programme that really works then this is for you.
The Weight Loss Club is a 12 week Health and Nutrition Course; it is a friendly, informal group for people with a collective goal of wanting to lose weight. Each week members are weighed and measured and given an ongoing record of their results.
A different nutritional topic is presented each week including; protein, water, snacking, metabolism, healthy fats, understanding food labels, portion control, eating out, exercise and so on. Hand-outs ensure members are given enough information to change eating habits and make healthy choices for their future.
There is a cash prize at the end for the Biggest Loser - who loses the most of themselves, and quizzes and raffles as the course progresses.
The Herbalife Healthy Nutrition Programme is offered as a weight loss solution for members who are interested; you don't need to take the products to join the club, everybody is welcome. All members who join The Weight Loss Club lose lbs and inches and feel terrific with lots more energy! Most members re-join a second or third club as they love participating and enjoy the great results they have seen.
If you would like any more information and are interested in joining, or if you would like to know if a club is opening up in your local area please call Louise for a chat! 01963 350163.
My job is getting you to reach your health goals.