Your source for Wincanton's latest news, views and information, covering Wincanton and surrounding towns and villages
Headlines » Police/Crime » Crime
Allotment Sheds Broken into and Damaged
Tuesday 2 November 2010
By Jenny Maynard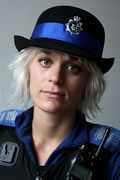 Between Thursday 21/10/10 and Friday 22/10/10 the Wincanton Allotments on Moor Lane suffered numerous shed break-ins. The offender/s forced the locks on the allotment shed doors causing considerable (criminal) damage.
The culprits have recklessly damaged numerous sheds down at the allotments. The residents who use the allotments, take great pride in this whole area, and to find all this damage and mess which will cause a lot of extra work, hassle and worry is really upsetting and frustrating. If anyone has any information regarding these incidents, please contact the Wincanton Neighbourhood Policing team.
You can contact us on 0845 456 7000 or you can call Crime stoppers on 0800 555 111. They never ask your name and never trace your call.
Many Thanks
PCSO Jenny Maynard